Fernando Rensi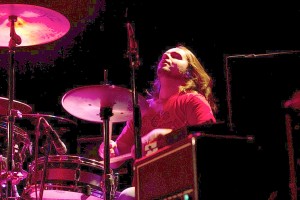 Hello, everybody! This is Fernando Rensi, from Brazil. I recently got home after four intense years on the run.
The adventure started in Australia, in 2008, when I joined the band the Indigo Frequency. With them I had the craziest experience of my life, touring the whole country for six months, traveling in a van, and playing every kind of place, from nice clubs to gold mines! A few national magazines decided to publish my story, including the Brazilian Modern Drummer.
Back to civilization, in 2010 I went to Los Angeles to study at LAMA (Los Angeles Music Academy), taking lessons from masters like Ralph Humphrey and Joe Porcaro. For a rocker like me, that was pretty intense but well worth it. This year I was invited to record the full album by Chad Hagger, a super talented singer from Venice Beach. The producer liked my playing and invited me to join his band and record the CD. The album was released at the Whisky a Go Go, in Hollywood, and I had the honor to play that show.
This past October, in New York City at the Rock And Roll Fantasy Camp, I had the chance to play with one of my idols, Vince Neil, the lead singer of Motley Crüe. I will never forget it. You can watch my performance at http://www.youtube.com/watch?v=9PzHmcM_MCc. Advertisement
Cheers!
For more on Fernando, go to www.fernandorensi.com.br.