Roland V-Tour Series V-Drums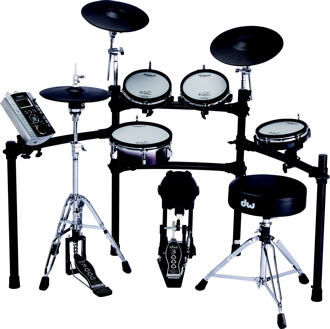 Roland's TD-9KX2 ($3,199, right) and TD-9K2 ($2,299, below) kits include an updated TD-9 sound module, which contains more than thirty new expressive sounds and dozens of new kits. The update also adds the ability to play MP3 files via USB flash media. Ambience effects and EQ can be added to quickly create custom kits, which are automatically stored to the internal memory. Users can archive a library of custom kits and settings from the TD-9 via USB flash media.
For practice, the TD-9 features the unique Scope function, providing real-time feedback of beat placement. The onboard Quick Record/Quick Play feature allows drummers to record and play back performances.
Both the TD-9KX2 and TD-9K2 feature Roland's patented multilayer mesh heads for the snare and toms, with rim triggering available on all pads. The new KD-9 kick pad includes a cloth-designed bass drum head, and the new lightweight CY-13R ride (with three-way triggering) and CY-12C crash offer a more natural playing feel. The TD-9KX2 also includes the VH-11 hi-hat, which mounts on a standard acoustic hi-hat stand.
rolandus.com Advertisement