Phil Boucher of Gentlemen Hall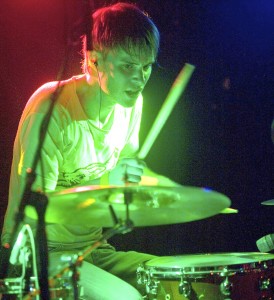 Hello, world, Phil Boucher from Gentlemen Hall here! I've been drumming exclusively with this six-piece band for over three years now, and it's probably been the most exciting period of my life so far. We hail from Boston (where we all met at college), and we make dancey, hook-laden rock 'n' roll. Oh, and we have a flautist (or flute player) to boot.
I always knew I wanted to be a drummer, and I jumped right on board once my school's music program began. I quickly gravitated towards the marimba and went on a heavy diet of music theory early on, thanks to my amazing private instructor, Richard Albagli. This then led me to the timpani, which became my main focus throughout high school. During this time my interest in the drumset went from zero to obsessed—and by senior year I was in my first band.
Today, my focus when practicing has become all about playing along with a click. Gentlemen Hall is heavy on technology, which means I'm playing to a click 95% of the time both live and in the studio. Sounding comfortable while being locked in is extremely important, and to this end I make my own drum loops using samples of my favorite old drum machines (such as the LinnDrum or the Roland TR-808) as an alternative to playing along to a basic metronome pulse. Also, I've been listening to drummers who have shown it's entirely possible to play along to a quantized sequence while being dead on and maintain a human lope to it. The drummer who in my opinion does this best is the great Steve Gadd, who is also my favorite drummer. Advertisement
Right now the band is out on the road a lot, touring in support of our EP When We All Disappear and shooting music videos whenever we have down time. This year has also seen us get signed to a management company (which brought a complete support staff on board), win a Billboard battle of the bands that landed us a slot on the nationally televised Billboard Music Awards (very nerve wracking!), have various commercial opportunities come our way, and see our first single start to climb the radio charts. It's been an exciting and challenging time!
For more on Phil Boucher and Gentlemen Hall, go to www.gentlemenhall.com.