Jazz Great Paul Motian Passes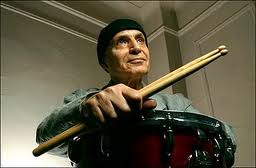 Paul Motian, who was among the most well-regarded musicians of the post-bop era, passed away today (November 22) at the age of eighty. Motian was particularly known as a fine trio drummer—a reputation he gained largely from his work with the piano greats Bill Evans and Keith Jarrett—and played an important role in jazz history by helping to free the drummer from being saddled with strict timekeeping duties. Among Motian's other credits were Stan Getz, George Russell, Thelonious Monk, and Paul Bley.
During the decade that he played with Jarrett (1967-76), Motian developed a special rapport with bassist Charlie Haden, whom he continued to tour and record with through the '90s. Starting in the late '70s, Motian focused on his own groups, including his long-standing trio with saxophonist Joe Lovano and guitarist Bill Frisell, and his Electric Bebop Band, a larger unit that included multiple guitarists. His 2010 album with saxophonist Chris Potter and pianist Jason Moran, Lost in a Dream, gained considerable critical praise and was a finalist for best recorded performance in MD's 2011 Readers Poll.
Modern Drummer sends condolences to Motian's family and friends.
To read an interview with Motian from the April 2005 issue of Modern Drummer, visit The Greats page.