Jerry Shirley Rocks Modern Drummer Hang at NYC's Cutting Room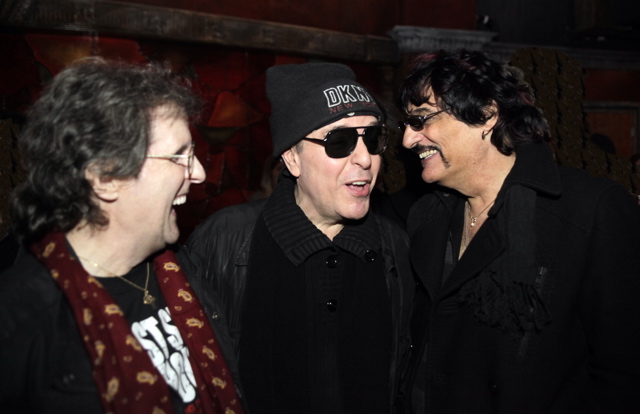 Legendary Rascals drummer Dino Danelli (center) was among the many guests who stopped by to say hello to old friends Jerry (left) and Carmine. Photo by Paul La Raia.
Following a sold-out masterclass at the Collective music school in Manhattan this past November 17, famed drummers Jerry Shirley and Carmine Appice stopped by to hang with MD and friends at the new Cutting Room club on 32nd St. Though the space is not yet officially open to the public, owner Steve Walter welcomed the opportunity to play host to the two legendary rockers, who are each in the middle of book tours. Jerry's new memoir is called The Best Seat in the House: Drumming in the '70s With Marriott, Frampton, and Humble Pie. Meanwhile, Appice, whose playing with Vanilla Fudge, Cactus, Jeff Beck, and Rod Stewart have made him a star among classic-rock fans, has been busy promoting his latest instructional manual, Realistic Drum Fills: Replacements.
Jerry kicked off the night by playing with the house band that was specially put together for the evening: guitarist Mike Riddle, bassist John "Kaz" Kazmack, keyboardist Benny Harrison, guitarist Robert Crisalli, and singer Frankie "Deac" DeCrescenzo. After a fantastic rendition of the classic Humble Pie song "4 Day Creep," Jerry handed the sticks over to Matty Amendola, who powered the group through several more numbers, including Pie's classic "I Don't Need No Doctor."
Special thanks to Steve Walter and the Cutting Room, Drummers Collective, Hal Leonard Corp., Hudson Music, and Rebeats Press.