Grant Hart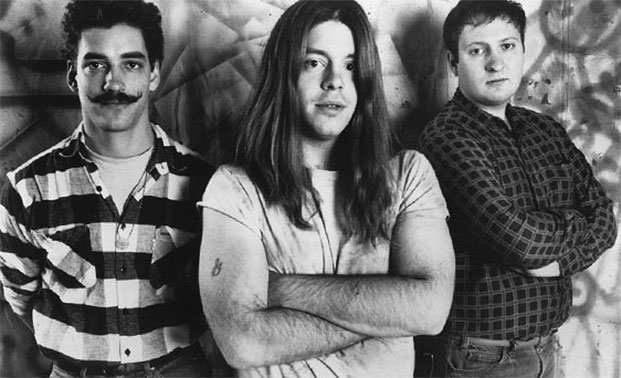 by David Jarnstrom
When making a list of essential American music towns, it's quite easy to overlook Minneapolis. Sure, native Minnesotan Bob Dylan lived there for a spell before making it in New York. And there's that little fellow named Prince who wrote a few hits in the '80s and '90s.
But perhaps Minneapolis's most influential musical contribution belongs to guitar-rock pioneers Hüsker Dü, the incendiary power trio who fused hardcore punk with bittersweet pop melody, and set the table for an entire generation of angst-ridden alterna-rockers in the process. "No Hüsker Dü, no Foo Fighters," Dave Grohl succinctly said in a recent interview with Q magazine.
For Record Store Day 2011, two of the biggest bands in America—Grohl's Foo Fighters and Green Day—released limited-edition, vinyl-only recordings of Hüsker Dü covers. Both songs, "Never Talking to You Again" and "I Don't Want to Know If You Are Lonely," respectively—were penned by the Hüskers' sprightly spark plug, drummer/vocalist Grant Hart. Advertisement
"That was very flattering," says Hart of the tribute. Sitting barefoot on his back porch in the hipster-laden neighborhood of Uptown in Minneapolis, Hart—now a solo artist—acknowledges the benefit of being adored by arena rockers. "That all ends up trickling down. Every concert I play, the youngest person there has heard my stuff because of somebody else."
Though Hart is routinely praised for his singing and songwriting (duties he split with brooding Hüsker Dü singer/guitarist Bob Mould), his ability as a drummer is often overlooked. While not one to drop face-melting fills—á la Taylor Hawkins or Tré Cool—Hart's spirited, unrelenting pulse was vital to Hüsker Dü's genre-shattering sound.
As a youngster, Hart made strides as a drummer by rocking out to his expansive record collection. "I would put headphones on and play to 45s," Hart recalls. "I probably spent a hundred hours playing along to the Fifth Dimension's "Aquarius/Let the Sunshine In." It was real pop-funky—boom, bada-bop-do-do-bop-bop—it had a lot of back-filling going on." This peppery snare attack would become part of Hart's signature style, separating him from his punk rock contemporaries. Advertisement
Hart met Mould in 1978 while working at a Saint Paul record shop. The two quickly bonded over a shared love of '60s psychedelic pop music and late-'70s punk rock. Hart's friend Greg Norton joined on bass guitar, and the band was christened Hüsker Dü—a popular board game in the '70s and a phrase that means "Do you remember"? in multiple Scandinavian languages. The ambitious teenage trio made an immediate impression in the Twin Cities and beyond, overwhelming audiences with an explosive combination of volume, speed, and power.
The band's early efforts—Landspeed Record, Everything Falls Apart, and Metal Circus—were often crude and brutal, featuring harsh guitar tones and shrill screams from Hart and Mould. "There was more emphasis on speed than melody, clarity of performance, accuracy of trajectory…it was all about velocity," says Hart. "The exhilaration of just slamming a room of people up against the other wall—there's nothing quite like it."
The young drummer quickly developed a wristy technique that allowed him to play louder, longer, and faster. "You're letting the bounce do as much of the work as possible," says Hart. This economy of motion went against the full-arm caveman style favored by many punk drummers of the day. Advertisement
But then, Hüsker Dü was never satisfied with being just another punk band. Easing off the throttle and focusing more on melody and song craft, Hart and the Hüskers released a steady stream of influential records at an insanely incessant pace, starting in 1984 with the highly ambitious double album Zen Arcade.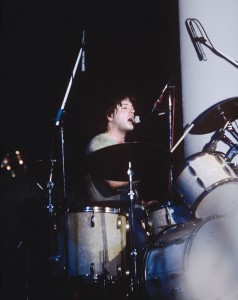 On 1985's New Day Rising, Hart's drumming began to display increasing depth—particularly on his own compositions. While classics like "Girl Who Lives on Heaven Hill" and "Celebrated Summer" feature Hart's trademark machine-gun snare blasting and white-hot ride cymbal washing (he seldom struck his hi-hats), the rollicking "Books About UFOs" is much closer to ragtime than punk. "We got out of the hardcore thing at a good time," Hart says. "It had become so formulaic. I remember making a conscious effort to bring things as uncommon as possible to our practice."
Later that same year, Hüsker Dü released the even poppier Flip Your Wig, their final record for the independent powerhouse label SST. Rapidly gaining popularity with a more mainstream audience, the band caused a stir by signing to a major label (Warner Bros.), thereby opening the floodgates for numerous other underground bands, like the Pixies, Sonic Youth, and, most importantly, Nirvana. Advertisement
Transitioning even further into what would become known as "college rock" or "alternative rock," Hüsker Dü's manic output culminated with Candy Apple Grey (1986) and yet another double album, Warehouse: Songs and Stories (1987). The latter boasted the most crisp and creative drumming of Hart's career. Highlights include the sassy offbeat funk groove in "You Can Live at Home," the pounding faux-double bass fadeout of "Ice Cold Ice," the frantic grace-note-heavy waltz of "She Floated Away," and the drum corps-inspired snare breaks in "Tell You Why Tomorrow."
Burnt out from non-stop touring and well-publicized personal issues, Hüsker Dü broke up suddenly in January 1988, never properly capitalizing on all their hard work. While there is little chance for a reunion (Hart and Mould aren't exactly the best of friends), there exists a surprising amount of quality YouTube footage of the band in their prime, ripping up stages all over the world. Hart routinely shines in these clips, delivering a compelling lead vocal while laying into his Slingerland Radio Kings with Keith Moon–like flair.
Perhaps the best lesson a new generation of drummers can learn from Hart is to simply play from the gut. Hüsker Dü boldly blazed their own trail, never once being concerned with conforming to a particular image, sound, or scene. "Don't worry about fitting in," says Hart in a sage-like voice. "Do what's right and fit into that. To thine own self be true." Advertisement
For much more with Grant Hart, pick up the January 2012 issue of Modern Drummer magazine.