Nia Lovelis of Cherri Bomb
When I was really young my parents took me horseback riding, and the sound and feel of the rhythm got stuck in my head. It was then I knew I wanted to play drums.
I come from a musical family: My mom was the lead singer/songwriter in an alt-rock band, and my dad was a touring keyboard tech and built studios. Musicians were always coming in and out of our house. When I was about seven or eight I started messing around on a set of Roland V-Drums that we had set up in the garage. I started taking lessons and joined a band camp—which was pretty depressing.
I wanted to be inspired and have a real band—my own band—and play with other kids that would challenge me to be better. So I answered an ad looking for a teenage drummer. I was eleven at the time. We went down to this crummy rehearsal studio in The Valley and I jammed with some really talented girls—who ultimately became my band, Cherri Bomb. It was awesome! We played songs like Kansas's "Carry On Wayward Son," Veruca Salt's "Volcano Girls," and Blue Öyster Cult's "Godzilla." It was then that I realized we sucked and had a lot of work to do. We were told that if we wanted to be taken seriously, we'd have to learn the basics. Timing, dynamics, harmony, rhythm, stage presence, etc. all became a part of our daily routine. We wanted to take over the world, and there was no looking back. And I am still playing to a click.
Being a young and inexperienced drummer, I didn't realize just how physical this love of playing is. Not knowing the intricacies of how to play correctly, how to really set up your kit and sit behind it, or even how to hold your sticks can really affect your body. I was hurting for weeks when I finally complained to our manager (superstar female drummer Samantha Maloney). She said, "Kiddo, we have some work to do with you." She repositioned my toms, cymbals, and seat, taught me stick control and handling, and stressed the importance of warming up. Now I watch all my favorite drummers like Josh Freese, Ilan Rubin, Stewart Copeland, Taylor Hawkins, Dave Grohl, John Bonham, Terry Bozzio, and Bernard Purdie to learn some tricks, and it doesn't hurt having Samantha to correct me when I am going off course. Advertisement
We've come a long way since those early days. We've opened for the Chelsea Girls, Camp Freddie, and Filter at the Roxy on the Sunset Strip, and we've toured with the Smashing Pumpkins. We just returned from our second European tour, where we played some of the largest festivals, like Reading and Leeds, Oxegen, T in the Park, Highfield and Lowlands, Rock en Seine, and Sonisphere. And we had the honor of opening for one of our favorite bands, the Foo Fighters, in Cologne, Germany. (Thank you to Dave and the guys!)
We were told so many times that no one was going to pay attention to four barely-teenage girls playing rock music. "You will be lucky if you ever get out of the garage." It sounds cliché, but if you dream hard and practice harder, anything is possible. The experiences have been life changing, and the support of our fans has been overwhelming.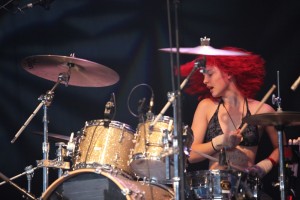 It has been an informative road trip, and I am really thankful to all that give so much of their time and endless knowledge to the band and me.
Equipment-wise, I am currently playing a six-piece RCI red acrylic kit (kind of like the old Ludwig Vistalites), and I'm using Zildjian K Custom Hybrids with DW hardware mounted on a Gibraltar rack. Advertisement
That's it for now. Hope to talk to you all again, and look for our current EP, Stark, on iTunes and the release of our debut album on Hollywood Records in early 2012.
For more on Nia Lovelis and Cherri Bomb, go to www.cherribombband.com.