Ian Paice: Influence
by Daniel Glass
The first time I heard Ian Paice play the drums, I was a wide-eyed nine-year-old, just getting my musical sea legs under me. At the time, my best friend was three years my senior, and like an older sibling, he took me under his wing and proceeded to turn this relatively sheltered John Denver fan into a devotee of Aerosmith, Sabbath, Floyd and yes, Deep Purple.
I loved everything I was hearing, but one album in particular really made me want to get out and join a band: Deep Purple's 1972 live session Made in Japan. Man, what an incredible recording! Captured on these four sides of vinyl was the best that '70s hard rock had to offer: crunchy guitar riffs, fuzzed-out bass lines, virtuosic Hammond organ runs, and imaginative, improvised jams, some of which approached the twenty-minute mark! Even today, when I need a dose of adrenaline-infused inspiration, I know just where to set my iPod.
This was music that managed to tip its hat to the bluesy origins of rock, while simultaneously exploring the frontier of what would soon come to be called "metal." There were touches of classical, folk, and jazz, all somehow served up with the sledgehammer attack that gave Deep Purple its nickname "the world's loudest band." Needless to say, I was hooked from the first note. Advertisement
Driving the entire ship from behind a set of classic Ludwigs was a drummer named Ian Paice. An intense study of the album artwork revealed little about this fellow, save that he set up left-handed, wore oval-shaped spectacles, and sported a wicked set of mutton chops. As I would come to realize in future years, Paice was not a man who sought out the spotlight. Rather, he preferred to let his drums do the talking.
And what is there to be said about the drumming of Ian Paice? What words can describe the tremendous impact that Paice's drumming made on an impressionable young rocker like me? Let's start with the setup. I owe my status as a lefty drummer to Ian. One look at that album cover gave credibility to the concept that if a person wrote, ate, and threw a ball with their left hand, then they could play a drumset "lefty" as well.
And then there's the sound. Paice always tuned his kit like a big band drummer. He had, in fact, started out in his father's big band. As a result, he was able to pull a surprisingly focused and resonant tone out of some pretty big tubs (24" kick, 13/16/18 tom combo). Advertisement
The Ian Paice snare sound was always crisp and tight, reminiscent of Bill Bruford's, perhaps, but a lot less ringy. This tuning allowed for an array of lightning-fast sticking combinations and blistering fills that managed to remain musical despite their bombastic nature. Paice could drive a single bass drum with the speed of Buddy Rich (no joke, kids), a technique put brilliantly on display during his solo feature "The Mule," another of my favorite tracks from Made In Japan.
Yet with all the force he used to drive the band, Paice somehow managed to fly around those big Ludwigs with the ease of a ballet dancer. If Muhammad Ali "floated like a butterfly and stung like a bee," then Ian Paice was surely his drumming alter-ego.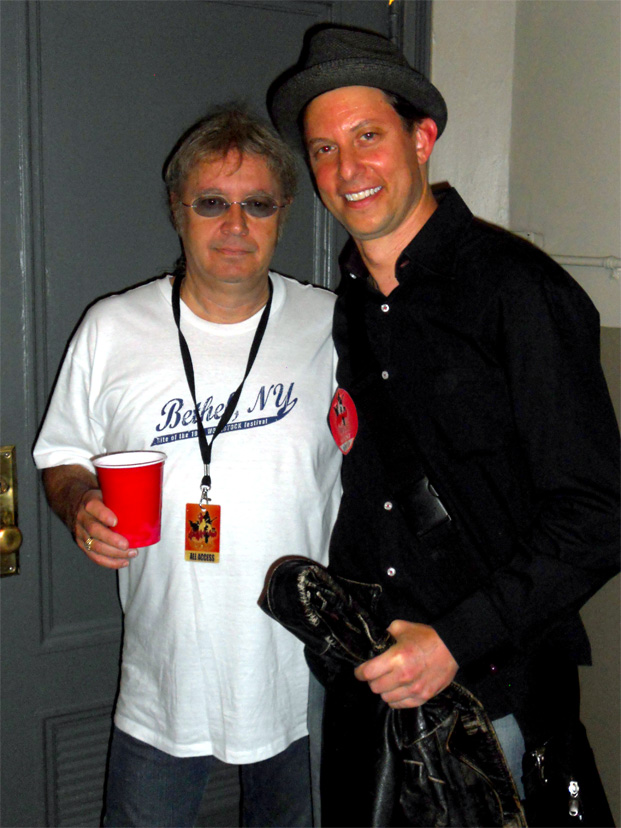 Paice drew his magic from the same well as many of the best drummers of his generation, guys like Mitch Mitchell, John Bonham, and Keith Moon. These players were reared on the swing of Gene Krupa, the bop of Max Roach, and the early rock feels of Earl Palmer. And although their music was heavy, their playing had a lightness to it, a free-floating aspect that captured a sense of spontaneity. In a time before click tracks, ultra-glossy production and mega-corporate interests all came to dominate rock music, these drumming daredevils walked a high wire all their own, continually pushing the envelope in the name of something original. Perhaps that's why the music that they made was so good, and why it has lasted so long. Advertisement
As I waded deeper into my own journey as a drummer, Ian Paice remained close by, a constant source of inspiration. In high school, I caught up on the rest of the Deep Purple catalog (Paice's playing on the album Burn stands out as a high point), and dug in with several releases from Thin Lizzy's Gary Moore, plus the first incarnations of Whitesnake. When Purple's "Mach II" lineup reunited behind the album Perfect Strangers in 1984, I finally had the chance to experience Mr. Paice live, and I can assure you he did not disappoint.
By the time I moved to Los Angeles in 1991, my interests as a drummer were shifting away from heavy rock and toward jazz and swing. Despite the change of style, however, I never lost the desire to attack the music that I had taken away from my first contact with Made In Japan. I truly believe that Paice's smart, aggressive approach was a big influence in helping me establish the "retro-swing" style I crafted as a member of Royal Crown Revue.
In 1999 I finally got a chance to meet Ian in person. RCR was playing at a major charity event in L.A., and Ian was performing with an all-star band that included Paul McCartney and Pink Floyd's David Gilmour. (How cool is that!) In talking about our various influences, we both had a good laugh when we realized that he, a rocker raised on jazz, had inspired me, a jazzer raised on rock! It's funny how things come full circle like that. Advertisement
I saw Ian again just a few months ago, when Deep Purple came through New York City with a full orchestra in tow. Although our meeting was brief, I was thrilled to have the chance to speak with my childhood idol once again. (You might even say I was blushing like a schoolgirl.) This time around, I proudly presented him with a copy of the book that I'd written with Zoro (The Commandments of Early Rhythm and Blues Drumming). "Thanks very much," he said in that very understated way. "Now I've got something to read on the bus."
Photo by Christina Faist. For more on Daniel Glass, go to www.danielglass.com.