Gene Markiewicz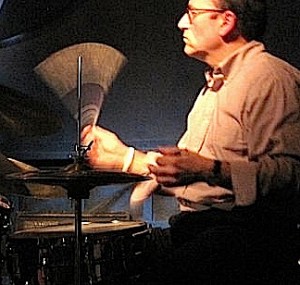 Hello, MD! It is a great honor to tell you that I will be inducted into the Indianapolis Jazz Foundation Hall of Fame. I am truly humbled. There are so many people to thank, especially my mother. That's right, mom! When I saw Ringo on TV as a kid, I knew I wanted to be a drummer. My mom always supported me. Don't get me wrong, she would remind me about being able to support myself, but she always had my back. What a great lady!
Jazz is America's true art form, invented right here in the U.S.A. My passion is sharing jazz with students that are just beginning their journey into the style. I was introduced to this great music in high school. The quick story is, I auditioned and got into the jazz band as a sophomore. I knew nothing about jazz. My band director, Daryl Horton, had me listen to and play music from the Stan Kenton Orchestra, Thad Jones/Mel Lewis, Count Basie, and many others. That was it for me.
I was also lucky enough to study with John Von Ohlen. And I would later become a fan of Mel Lewis. When I was eighteen, I saw Mel perform live at the Village Vanguard. That was a drum lesson in itself! Mel taught me how to get the best sound out of the instrument. I was lucky to meet and chat with him. He was a true drummer's drummer. Advertisement
I am currently working on a few things. I hope to have more on my website soon. My good friend, drummer Tim Gee, is helping me with this adventure. I also hope to be visiting high schools toward the end of the year to work with a few jazz band programs and drummers. I also perform with my jazz group, the Farrelly/Markiewicz Jazz Quartet.
I would also like to take time to mention how much growing up with Modern Drummer has helped me. What a wonderful magazine to learn and totally geek out on!
For more on Gene Markiewicz, go to www.genemarkiewicz.com.