Eric Choi of We Came As Romans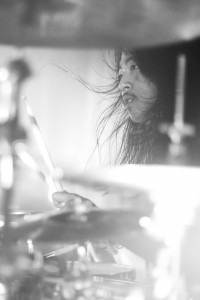 My name is Eric Choi, and I play drums for We Came As Romans. I was born in Detroit and raised in a nearby suburb, Troy, where the band and I got together early summer of '06. Despite our young age at the time (I was the youngest member at fifteen, our average age being sixteen), we didn't hesitate to start booking our own shows/tours regionally throughout most of the Midwest and some of the east coast.
I picked up drumming when I was thirteen after playing the trumpet all through middle school. Discovering Slipknot and Joey Jordison's very popular drum solo on his spinning, lit-up drum riser was probably what convinced me more than anything else to start drumming.
As my parents weren't too fond of the idea of me buying my first kit, I am completely self-taught. Watching drum videos and seeking new bands to listen to was my way to pick up on different patterns and grooves to shape my technique and style. Advertisement
Many people have asked me why I choose to use and incorporate a variety of splash cymbals in my writing. It's simply because I feel an obligation to write and play what my imagination comes up with. I've always been one to get personal with and feel a song as my first step of the writing process, to ensure I grasp the proper dynamics and flow necessary to make each part of a song serve its purpose the best it possibly can.
Although I enjoy writing somewhat fast, complex-sounding grooves, I also love to jam "in the pocket" at slower tempos with a more straightforward feel. There aren't many styles that I can say I dislike. I believe staying open-minded to other genres and styles is important to learning and growing as a drummer.
Playing in a relatively heavy, high-energy band, an eye-catching stage presence is expected from a lot of concertgoers. Giving an exciting visual performance has been a focus of mine since day one. Thomas Lang has been a big influence when it comes to incorporating stick twirling in a live performance, as well as drumming. Advertisement
Photo by Tarina Doolittle. For more on Eric Choi and We Came As Romans, go to www.wecameasromans.com.