Drummer to Drummer: Jimmy Chamberlin and William Mohler (w/ VIDEO)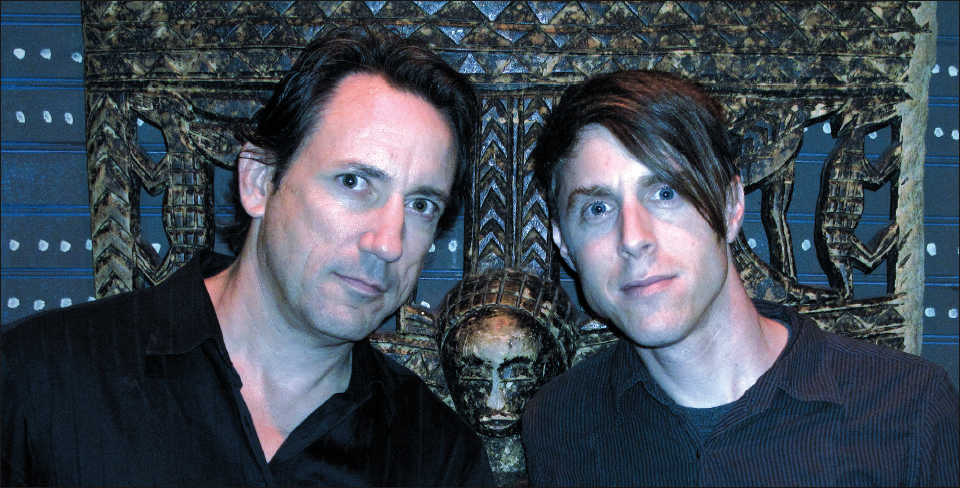 As the original drummer in Smashing Pumpkins, Jimmy Chamberlin established himself as a kit-smith with burning chops and the ability to come up with signature drum hooks. In 2000, following the breakup of the Pumpkins, the drummer made his debut as a leader with the Jimmy Chamberlin Complex, in which he was able to express his passion for jazz fusion. William Mohler, who has worked with Limp Bizkit, Kelly Clarkson, and Liz Phair, among others, is Chamberlin's bass-playing bandmate in the Complex. He's also the drummer in the band War Tapes.
For the February 2010 issue of Modern Drummer magazine, we had the two gentlemen interview each other about the musical issues that concern them most. Here we also present a clip from the Drum Channel DVD Gannin Arnold Project, featuring Mohler giving great insight into Jimmy's playing, followed by Chamberlin playing the song "Not From Here."
WILLIAM ASKS JIMMY
William: In whatever band you're recording with—the Pumpkins, Zwan, or the Complex—you leave a bold stamp on the music with signature, hook-driven drum parts. How did you develop this skill, and is it something you think about while writing? Advertisement
Jimmy: First off, thanks for the props! I really try to concentrate on being myself when I play. I know that sounds simple, but I think it takes years of emulating your heroes and practicing to finally arrive at the required amount of facility to just "be yourself" on an instrument. I think that's where the hooks come in. When you can be yourself, only you can play like you. Things start to sound like a musical version of your personality. How do you think Keith Moon would have acted if you had met him? Buddy Rich? A lot like they sounded on the drums, I'm sure!
The idea is to assimilate the beauty of individuality into a musical context. Through practice we can do this. When writing a drum part I try not to think too much and just let it flow out of me. Intuition is always right if you can follow it. Sometimes it's obvious, and sometimes you have to put the time in to make something happen. Remember, there are no wrong notes, only poorly chosen ones.
William: With the success you've had, it would be very easy to just sit back, but you constantly push yourself. I know you'll practice for two hours before a show and then play a three hour set! What drives you to want to keep improving, and where does your motivation come from? Advertisement
Jimmy: I'm constantly listening to music. Great music keeps me alive, and it's the impetus for me to keep practicing. Again, I think it's my desire to be myself on my instrument that makes me want to keep moving forward. As I move forward as a human being, the music should reciprocate. Music is my life, and if I stop growing as a player, then everything kind of stops for me.
William: With regard to your solo work with the Jimmy Chamberlin Complex, how have your non-drummer idols influenced your playing and songwriting?
Jimmy: I look to other musicians for ideas and inspiration as much as I do drummers. A lot can be learned by studying the complex simplicity of Thelonious Monk or the sensitivity of Bill Evans. Anyone can teach us something, and we must be open to and aware of the things that are being presented to us at all times—from the chirping of a bird to the sounds of a house being built. There's rhythm and melody in those sounds.
William: You have a sixth sense in terms of arrangement. How important do you think it is for a drummer to understand
harmony and chord structure?
Jimmy: Knowledge of harmony and melody is key if you want your drum parts to "sing the song." I have always thought that you should be able to know what song you're hearing just by listening to the drum part, and that's what I strive for. The same goes for any instrument. Advertisement
William: Who are some of your nondrumming idols?
Jimmy: My non-drumming inspirations are too numerous to list. But the very top of the list would consist of Thelonious Monk, Duke Ellington, Bill Evans, John Coltrane, Chick Corea, Ella Fitzgerald, Peggy Lee, Patsy Cline, Burt Bacharach, Miles Davis, Herbie Hancock, Wayne Shorter, Joe Zawinul, Jaco Pastorius, Jeff Beck, Dave Holland, Cole Porter, Brian Wilson, Gil Evans, McCoy Tyner, Mose Allison, Oscar Peterson, Lee Morgan…. All of these people had a mastery of their instrument to the point of making their compositions completely personal.
William: You've been through an amazing musical journey already—from playing drums in Chicago to joining the Smashing Pumpkins and seeing it grow from a small local band to a worldwide phenomenon, and now you're venturing deeper into your solo music. What's the greatest lesson you've learned through all this, and how does it affect you, your day-to-day life, and having a family?
Jimmy: I've learned many things over the years, but I think the strongest lesson, and the one that encompasses everything, is, again: Everything for me revolves around my instrument. It's been with me longer than anything else in my life. My ability to be a good father, husband, friend, composer, teacher, kite flyer, gardener, pet owner is reflected in my relationship with the drums. When I'm in the groove with work, everything else falls into place for me. I know that sounds simple, but it's true. There's a cosmic relationship between what you put into your music and what life gives you back. Advertisement
William: What advice would you give up-and-coming drummers searching for their own voice?
Jimmy: Don't go too far into someone else's trip. Be your own player. You have something inside of you that is special and unlike anything else in this universe. Tap into it. Practice until you can release it. And then unleash it on the world. We'll be listening!
JIMMY ASKS WILLIAM
Jimmy: How does your understanding of pitched instruments come into play behind the kit?
William: It comes into play when War Tapes is writing new songs. Knowing the progression and understanding it, I can figure out where I need to be dynamically and what kind of drum part will accentuate the changes and melody. It also comes in handy when I'm tuning drums.
Jimmy: How do your roles as drummer and bass player differ? And how do these differences present themselves in the studio, on stage, or in everyday life?
William: As the bassist my main role is to support whatever is happening in that moment. As a drummer it's my job to lead while supporting. I play off the vocals, and that dictates my intensity level. But I'm always focused on the groove and making sure the time is solid. Getting behind the kit has helped me so much from a production standpoint as well. Drum tuning, parts, feel, and timing are something I have a lot more clarity on now that I'm a drummer. Advertisement
Jimmy: Do your bass idols also influence your drumming?
William: I wouldn't say they directly influence my drumming, but they do influence my life and how I look at art. Bassists like Scott LaFaro, Jaco Pastorius, and Ron Carter are the reasons why I play music. I can't play jazz on the kit, but it's my main source of inspiration for wanting to be the best I can be. Each of the bassists I mentioned has such a distinct voice, and that's something I definitely would like to achieve as a drummer.
Jimmy: How does knowing how to practice the bass help with learning a new instrument, especially one as difficult as the drums?
William: Knowing how to practice has helped me a lot. I was in my band for a year before I realized I was a drummer! Through playing and writing songs I would figure out what I needed to practice. If I was hearing a drum part that I couldn't figure out how to play, I'd get to rehearsal early every day until I could play the part. I think being dedicated on one instrument easily carries over to other instruments.
Jimmy: Now that you've become the drummer in a band, what are your feelings on the current publishing splits? Has it changed your views, and if so, how?
William: I believe that drummers have always gotten the short end of the stick when it comes to publishing. My personal belief is that if you want to be a "real" band, you should split everything equally. Sometimes a beat can define a song, or a style of drumming can define a band's sound. I feel this is worth equality in the band. Being a drummer has only reinforced this belief. Advertisement
Jimmy: What is your destination as a drummer?
William: Being filled with growth, improvement, and possibly, maybe, with lots of practice, writing a few massive drum hooks like you've done!
Check out a recent interview with Jimmy Chamberlin and Modern Drummer here. 
And here's that clip from the Drum Channel's Gannin Arnold Project DVD, featuring Jimmy's take on the song "Not From Here."