Yamaha DTX500 and DTX700 Series Electronic Kits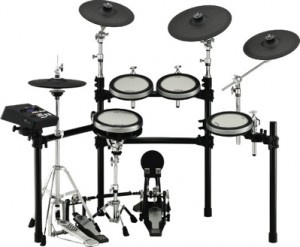 Yamaha is now using a numbering system to designate different series of electronic drumkits based on the brain used in the configuration. All the kits in the 500 series feature the redesigned DTX500 Drum Trigger Module, which includes 427 drum, percussion, and effects sounds, along with fifty preset drumkits and twenty user-editable kits. The module also features onboard practice tools, play-along and recording functions, MIDI out, and twelve trigger inputs compatible with the full range of DTX-PADs and cymbals.
The entry-level model is the new DTX500K, a five-piece kit based on the DTXPLORER. While the DTX500K doesn't include a DTX-PAD, it does include a Yamaha bass drum pedal. The DTX520K features a three-zone XP80 8″ DTX-PAD snare, a three-zone PCY100 10″ crash cymbal, and the RS500 rack system. The DTX530K includes the same drum pad configuration but adds the RHH135 vertical motion hi-hat system and three-zone PCY135 13″ ride and crash cymbals. The top model in the 500 series, the DTX560K, features three XP70 7″ DTX-PAD toms.
In the intermediate 700 series of instruments, all models feature the new DTX700 Drum Trigger Module with 1,268 drum sounds, DSP effects, and 128 keyboard and melodic sounds drawn from Yamaha's MOTIF-XF synthesizer workstation. Additionally, drummers can import audio samples into the module's 64MB of Flash-ROM. Fully computer compatible, the DTX700 module includes a USB port for storing and loading files and a USB-to-host port for sending MIDI in and out to the included Cubase AI Digital Audio Workstation software. Advertisement
The DTX700K uses the same pad, cymbal, and rack configuration as the DTX560K. The DTX750K includes three-zone DTX-PADs for the snare and toms, two crash cymbals, and a larger PCY155 15″ ride cymbal, plus the RS700 rack and drum hardware. The DTX790K uses larger DTX-PADs for all drums, including a large kick pad, and each drum has a control knob.
List prices: DTX790K, $5,752; DTX750K, $4,825; DTX700, $3,467; DTX560K, $2,637; DTX530K, $1,800; DTX520K, $1,507; and DTX500K, $1,055.
yamahadrums.com