Matt Ochoa of the Dirty Heads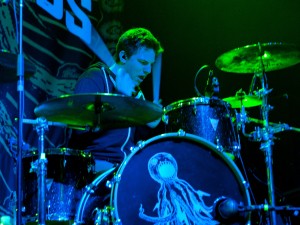 What's up, Modern Drummer! My name is Matt Ochoa, and I play drums for the Dirty Heads. For those who don't know us, we're a reggae-infused rock band with a solid hip-hop influence. I've been with the group since '07, and we're currently recording our second album and getting ready for a co-headlining tour with Gym Class Heroes this fall. We have a new single out on radio called "Believe."
I started playing drums in grade school, joining jazz band and jamming on the CB Percussion kit that my mom got me when I was eleven. In high school I joined drumline and played in numerous jam bands. I grew up skateboarding and having that lifestyle; no one was too serious about getting a band together.
Joining the Dirty Heads just made perfect sense to me. I like to hit hard with precision and technique, keeping the energy up, and the fans are into it! Some drummers that have definitely had an impact on my playing are Josh Freese, Stewart Copeland, Joe Tomino, and Abe Cunningham. Advertisement
We're looking forward to recording our next album, and we will be tracking at Sonic Ranch Recording Studios in El Paso, Texas. I'm pretty stoked, because this will be the first time that I'll be able to experiment with different drumkits in different rooms. I've never been that knowledgeable on gear or had the option to test out different equipment during the recording process. Not to mention, we'll be working with Mario C, who's produced and engineered the Beastie Boys!
I like to play Vic Firth drumsticks and Evans heads. Keep smashing!
For more on Matt Ochoa and the Dirty Heads, go to www.dirtyheads.com.
Photo by Neil Farewell.