Chris Kamrada of There for Tomorrow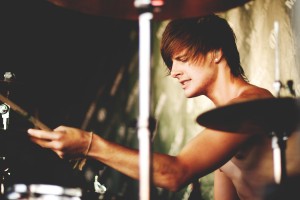 Hello, Internet world, my name is Chris Kamrada. I'm twenty-two years young and I play drums in the Orlando-based rock band There for Tomorrow. When I was a little surfer/skater punk kid in middle school, I joined band only as an excuse to get away from the other elective classes. As soon as I joined, I was immediately intrigued by all the percussion instruments. I especially eyed the drumset, and that's how it all started. I spent those three years in band learning simple rudiments and instruments such as marimba, xylophone, and timpani.
The first time I actually sat behind a full kit of drums was when I was thirteen, and I knew it was something that had just changed my life. Only a few months later, I started playing and writing music with our singer Maika and bassist Jay. Ever since our first practice together, we've all been addicted to creating rock songs.
When we started the band, drumming became everything I thought about. I've always had a lot of passion for the songwriting aspect. I plugged my creative role into the big picture of the music-making process. I absolutely love writing original drum parts and arranging songs with other musicians. As much as I love watching technical drummers shred and perform drum solos, that's never been the reason why I play. I grew as a player by listening to other bands' music for hours on end. Most of my influences came from the grooves and beats that I heard from all the drummers and bands that I looked up to. I still do that to this day. If I have writer's block, I just sit down and listen to new music that I'm into. Advertisement
We recently released our album The Verge, and I'm extremely proud of all the songs and my drumming on them. When we wrote and recorded the album, we were able to play together in a massive live room as a band. There was no faking anything in the sessions. We performed just like we do on stage. There's a huge payoff to listening to your own music and knowing it's an honest performance. I didn't play to a click on most of the album. This was done to capture the natural vibe of the band and let the songs have their own unique groove—and we didn't use any drum triggers and avoided post-editing/quantizing of my parts. It's all the real deal and very rewarding to jam out to it.
For all you drummers, listen to the drum parts on the tracks "Nowhere Blvd." and "Stopwatch Affair." You can get it on iTunes and in stores everywhere. Please check it out; I think you'll dig it. We'll be touring North America this fall, so come out to a show and talk shop with me!
For more on Chris Kamrada and There for Tomorrow, go to www.therefortomorrow.com.