Web Update News

John Tempesta is in the studio working on a new Cult record. For more on John go to moderndrummer-com.go-vip.net/2010/11/john-tempesta-2/.
311 have a new studio album out, Universal Pulse, produced by Bob Rock (Aerosmith, Metallica) and mixed by drummer Chad Sexton at the band's own Hive Studio in North Hollywood, California. Universal Pulse is the group's tenth studio album and the first to be released via their own label, 311 Records, through an exclusive partnership with ATO Records. For more, visit www.311.com.
Jon Wysocki recorded Staind's latest self-titled CD before departing from the band. It's the bands seventh studio album and first full-length release in three years. Will Hunt has landed the gig. For more on Staind, go to www.staind.com.
Charley Drayton is on Sheri Miller's latest, Winning Hand. For more visit www.sherimiller.com. For more on Charley visit his MD archive article here: moderndrummer-com.go-vip.net/2010/09/charley-drayton/. Advertisement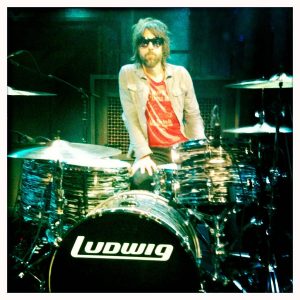 Brian Young is on Fountains Of Wayne's latest, Sky Full of Holes. For more, visit www.fountainsofwayne.com. In other news, after seventeen years of playing Pearl drums, Brian has left to join the Ludwig family.
Chad Smith is on the new Red Hot Chili Peppers album, I'm With You, as well as the latest from Chickenfoot, Chickenfoot III. Kenny Aronoff will be temporarily subbing for Chad in Chickenfoot while Chad tours with the Peppers. For more, go to www.redhotchilipeppers.com and www.chickenfoot.us.
Scott Rockenfield is on Queensryche's Dedicated to Chaos. For more on Scott, check out his archive blog at https://moderndrummer.com/2010/10/scott-rockenfield-2/.
The Bad Plus's Dave King is on Good Old Light by his side project Dave King Trucking Company. For more on Dave visit www.daveking.net.
Victor Indrizzo, Ryan Tedder, and Greg Wells are on Colbie Caillat's latest All of You. For more on Victor, visit http://victorindrizzo.com.
Chris McHugh and Greg Morrow are on Blake Shelton's latest, Red River Blue. (Check out the CD at www.blakeshelton.com.) Greg is also on America's latest, Back Pages.
Ringo Starr, Russ Kunkel, Aaron Sterling, Mike D'Amico, Steve Rushton, Nate Novarro, Ben Wysocki, Rafael Padilla, Jeff Lynne, and Steve Aho are all on the Buddy Holly tribute CD Listen to Me.
Dena Tauriello is on the latest from Antigone Rising, 23 Red. For more, visit www.antigonerising.com.
A.J. Pero is on Twisted Sister's Double Live: North Stage '82, NY Steel '01 double DVD set. The three-hour set features two concerts performed nineteen years apart. Check it out at www.eaglerockent.com. Advertisement
Keyboardist Matt Horner, saxophonist John Johnson, and bassist/producer Peter Cardinali are on group founder and drummer/composer Vito Rezza's CD Rome in a Day. For more, visit www.vitorezza.com.
The eighteen-and-under four-piece band Kicking Daisies, featuring Caitlin Kalafus, released their self-titled EP exclusively via Walmart this past July. Check out Caitlin's archival MD blog here: moderndrummer-com.go-vip.net/2010/07/caitlin-kalafus/.
The second season of Rock 'N' Roll Fantasy Camp, produced by Mark Burnett and David Fishof, aired this past August 20 on VH1 Classic. The series features Guns N' Roses members Duff McKagan and Matt Sorum and camp favorite Mark Hudson. For more on upcoming camps visit www.rockcamp.com.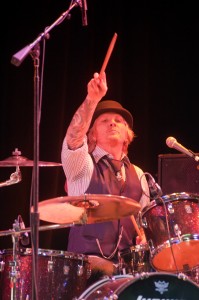 Speaking of Matt Sorum, you can check out his latest project, Diamond Baby, here: http://www.youtube.com/watch?v=vHeGuqAAU-w&feature=player_embedded.
Tamas Vajda is on Verismo's EP Falling Up the Stairs. For more on Tamas, visit www.heavymetaldrummer.com.
Dave Houghton is on the Joe Jackson Trio's Live Music Europe 2010. For more visit www.joejackson.com.
Randy Cooke is on Redlight King's Something for the Pain. To watch the video for the single "Old Man," click here: http://www.youtube.com/watch?v=lGt54Ozo8LQ.
While on break from touring with the original Tony Award–winning cast of Jersey Boys—now called The Midtown Men—Adam Fischel is touring with Deborah Gibson's Journey Through the '80s tour. To read Adam's blog, visit moderndrummer-com.go-vip.net. Advertisement
Greg Hutchinson is on Dida Pelled's Plays and Sings. For more, visit www.didapelled.com.
Simon Phillips is on Derek Sherinian's upcoming solo CD, Oceana. For more, visit www.dereksherinian.com. Simon is also on Hiromi's Voice CD with bassist Anthony Jackson.
Keith Carlock is in the studio with Australian guitarist and Guitar Player magazine's "Best New Talent" Joe Robinson. For more on Keith, visit www.keithcarlock.com.
Otis Brown III is on the Anne Mette Iversen Quartet's Milo Songs.
Duduka da Fonseca plays and produces Sounds of Brazil with the Ark Ovrutski Quintet.
Chad Cromwell is on Joss Stone's latest, LP1. For more, visit www.jossstone.com.
Patrick Hallahan, Damian Johnson, and Isaac Jones are on Vanessa Carlton's latest, Rabbits on the Run. For more, visit www.vanessacarlton.com.
Chris Infusino has been playing and or recording with Dr. John, Bernie Williams, Jennings, Joe Taylor, Luke Wesley, Wakey! Wakey!, sax player Steve Elson, guitarist Teddy Kumpel, and bass player Paul Socolow. For more on Chris, visit www.facebook.com/chrisinfusinogroove.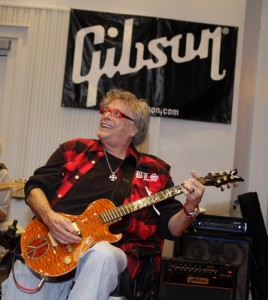 MD is happy to report that Leslie West is recouping successfully from leg-amputation surgery. Kenny Aronoff (among other special guests) is on his new album, Unusual Suspects. Check out Leslie's Dean Guitars page here: www.deanguitars.com/leslie_west.php. For more on Kenny, read one of his MD archive articles here moderndrummer-com.go-vip.net/2010/10/kenny-aronoff/.