Sean Winchester of Everclear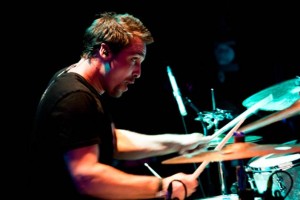 Hey, MD readers! My name is Sean Winchester, and I am the recording and touring drummer for Everclear. For those who haven't heard, Everclear is finishing up a new record, and it's an exciting time for Art and the rest of the band.
I began drumming as a teenager and had the opportunity to take lessons with drumming legend Zoro before attending the Berklee College of Music. I previously drummed for acts including Plaid Daddy, Fermata, Dead Rose Beauty, the Fabulous Miss Wendy, Frequency 5, and River of Suns. I recently started my own trio, Something Bot Metro, with my longtime friend and Hoobastank bassist Jesse Charland, and keyboardist/producer Dylan Charbeneau.
I've recently teamed up with likeZEBRA.com for a live online drum lesson and Q&A on their new platform, backBEAT. BackBEAT events are unique live sessions that are scheduled to be viewed at a specific date and time. Mine, for example, will be this Sunday, August 14, at 4 p.m. PST. I'll be playing a song with Something Bot Metro and then breaking down sections of that piece, which I'm often asked about. I'll also play some new beats that I wrote for the upcoming Everclear record and talk about my experiences in the band and as a drummer in general. During this time, viewers will be able to watch the live stream and chat via backBEAT too. I'm really excited to connect with fellow drummers and any other music fans. Advertisement
BackBEAT is a fairly new platform, but I'm really excited to be a part of it. Any fans interested in the event can create a free likeZEBRA account and access backBEAT from there. This session costs 8 credits, an equivalent of just $2.
I look forward to playing for you and showing you what I've been spending time on lately! My backBEAT event page is here,www.likezebra.com/backbeat/event_complete.php?e=64 and the backBEAT main page is here.www.likezebra.com/#backbeat