Guitar Center's Drum-Off, World's Largest Drumming Competition, Kicks-Off
23rd Annual Competition Offers America's Most Skilled Undiscovered Drummers The Chance To Win Career-Launching Prizes Including Cash, Gear, And Pivotal Endorsement Deals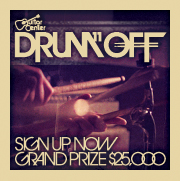 Watch the video announcement here: www.youtube.com
Continuing its ongoing support of and commitment to aspiring artists, Guitar Center today announced the launch of the 23rd annual Guitar Center's Drum-Off the nationwide search for the next great undiscovered drummer. Starting today, drummers from across the nation can sign-up at any of Guitar Center's 220 stores for the chance to participate in the world's largest drum competition, vying for thousands of dollars in prizes and the coveted title of Guitar Center's Drum-Off Champion. All store, district and regional finalists will win significant prize packages including instruments, drum equipment and accessories, and gift cards from Guitar Center and key sponsors. The grand prize package, valued at nearly $50,000, includes:
•      $25,000 Cash
•      Custom Drum Kit (Gretsch, OCDP, Tama, Pearl or DW)
•      Drum Kit Endorsement Deal (Gretsch, OCDP, Tama, Pearl, or DW)
•      Complete Set of Cymbals (winner's choice: Zildjian, Sabian, or Meinl)
•      Cymbal Endorsement Deal (Meinl, Zildjian, or Sabian)
•      Drumhead Endorsement Deal (Evans or Remo)
•      Stick Endorsement Deal (Pro-Mark or Vic Firth)
•      Roland TD-20SX Electronic Kit & PM30
•      Audix DP7 Drum Microphone Pack
•      $500 Converse Gift Card
•      Feature in Modern Drummer Magazine
•      2012 NAMM VIP Experience
•      Trip to New York to record at the Converse Rubber Track Studios
"For over two decades, Guitar Center's annual Drum-Off competition has provided a public platform for some of today's greatest unsung drummers—in many cases even launching professional careers," said Dustin Hinz, Director of Music and Entertainment Marketing for Guitar Center. "As with past years, it's always a thrill to witness such an amazing group of talented artists and be able to provide thousands of undiscovered drummers a real chance to take their musical careers to the next level." Advertisement
Guitar Center's Drum-Off has jump-started the careers of a number of professional drummers over its twenty-three year history, including those of Cora Coleman-Dunham and Tony Royster Jr, (Prince, Beyoncé and Jay-Z respectively).  In years past, a number of the world's best and most renowned drummers have participated in and supported Guitar Center's Drum-Off, including: Chad Smith (Red Hot Chili Peppers), Matt Sorum (Guns 'N Roses, Velvet Revolver), Questlove (The Roots), Travis Barker (Blink-182), Tommy Lee (Motley Crüe), Dave Lombardo (Slayer), Carmine Appice, John Tempesta (The Cult), Taylor Hawkins (Foo Fighters), Steve Smith, Gavin Harrison, Jojo Mayer, Thomas Lang, Josh Freese (Nine Inch Nails, A Perfect Circle), José Pasillas (Incubus), Billy Cobham, Niko McBrain (Iron Maiden), Stephen Perkins (Jane's Addiction), Danny Carey (Tool), Brann Dailor (Mastodon) and Jason Bonham.
Local competitions will be held at each of the 220 Guitar Center locations nationwide, with store prelims on September 13th, 20th and 27th and store finals on October 4th.  Each contestant will be required to give a performance on a 5-piece drum kit with the option of using the Roland SPD-30 percussion pad and will be judged on originality, technique, style, stage presence and groove. One winner from each store will be chosen to move up to district competitions (taking place at 25 different Guitar Center locations on October 25th), followed by regional finals (taking place at 5 different Guitar Center locations on November 15th), and culminate in Guitar Center's Drum-Off finals competition slated for January 7, 2012 in Los Angeles, California. Here, the five finalists will open up for A-Level artists and perform in front of a live audience and panel of celebrity judges.
Guitar Center's Drum-Off is just one of many Guitar Center initiatives created to foster growth and success within the music community, including its annual On-Stage, Your Next Record and King of the Blues competitions, among others. Advertisement
•      Guitar Center On-Stage is an annual competition judged by a legendary rock band. Each year, the winning band wins an opening slot for the judges, and this year's winner will open for alt-rock pioneers Jane's Addiction.  Artists are still about to enter at www.ourstage.com/go/janesaddiction/.  Past On-Stage competitions have featured Motley Crüe and KISS.
•      Guitar Center Presents Your Next Record provides emerging artists the chance to win the ultimate career-altering opportunity and record their music with legendary artists. Unsigned band Twin Berlin was recently selected to record an EP with Travis Barker, and have him write, record and perform on their single. Past Your Next Record competitions have featured Slash and Keith Urban. www.YourNextRecord.com
•      Guitar Center's King of the Blues is a nationwide amateur guitar skills competition with the goal of finding the next great undiscovered blues guitar player.  This years finalists will perform alongside Grammy-winning guitarist Warren Haynes as they battle for the title of King of the Blues at the September 1st final in Los Angeles, CA. gc.guitarcenter..com/kingoftheblues/ Advertisement
Guitar Center Drum-Off is presented by:
DW, Remo, Pro-Mark, Sabian, Roland, Modern Drummer, Converse, LP, Evans,Vic Firth, Zildjian, Gretsch, Pearl, Tama, OCDP, Meinl, and Audix