Marty Beller of They Might Be Giants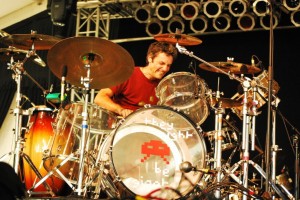 Hello, Modern Drummer readers. Marty Beller, drummer for They Might Be Giants, here.
In 2000, I got a call from TMBG bassist Danny Weinkauf. We had met through guitarist Dan Miller, who I had toured with in my band Meow. He said they needed a drummer for a show on very short notice; their regular—and formidable—drummer, Dan Hickey, was absolutely unavailable and it was a gig the band could not get out of.
"Here's the deal," he said. "No one can know you're a sub. You have to learn the full set—twenty-six songs. I can run stuff with you, but there's only one band rehearsal." I begged him not to call anyone else.
I listened to the band's live tapes over and over. Dan Hickey sounded fantastic. He was musical and played with tremendous clarity.
This was a huge opportunity—and a huge challenge. This was the biggest band I had ever played with, and I'd never had so little time to prepare. On the way to the stage I asked TMBG co-founder John Flansburgh about how to pace the show. He said, "I'd rather you ask for my forgiveness than my permission." And then he said, "Don't worry, we're all going to make mistakes. I'm going to make mistakes. You're going to make mistakes…." I nodded and said, "That's not going to happen." Advertisement
When I sat down behind the drums I felt my kick drum leg shaking. But once we kicked into the music the energy was great. I never felt so focused on stage. I had a blast.
It turned out to be the perfect introduction, and when Dan moved on in 2004 I was evidently their first, and I am happy to say only, call.
TMBG's recording process is ambitious, and the material is unpredictable. Some songs arrive as fully realized demos with loops or programmed drums. The challenge of topping the loop both sonically and musically is not always obvious. Other songs' grooves and arrangements are up for grabs. I love this process. Whatever shape the track arrives in, we all have a common goal: to make the song as immediate and as memorable as possible. This demands a lot of trial and error, but the variety of approaches is wonderful. We recorded one song at several different speeds. On another I use my knuckles on the body of an acoustic guitar. On another I had two sticks in each hand and played the side of the floor tom to give a more traditional snare "train" groove additional flavor.
I've always been interested in drummers with strong personal style and authentic dynamics: Stewart Copeland, Phil Gould, Keith Moon, Paul Wertico, Taylor Hawkins. One of my favorite artists, Ben Folds, is also a great drummer. And of course who hasn't been influenced by Animal?
I play Ludwig drums, Zildjian cymbals, and Roland electronics and use Vic Firth sticks.
TMBG's new album, Join Us, will be released July 19. This year I also worked on Jonathan Coulton's Artificial Heart, Making It by Stew and the Negro Problem, and a new Mike Doughty album.
For more on Marty Beller, go to www.martybeller.com. Photo by Kevin Packard.