Mark Castillo of Crossfade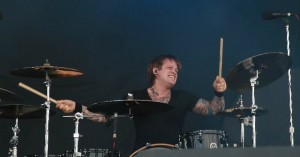 Well, look at this! After reading Modern Drummer month after month, year after year, I finally get to write an article! Now, what to say….
My name is Mark Castillo, and I am the drummer for Crossfade. I've been playing since the age of seven, sneaking on my brother's old Ludwig kit in the basement. Jeez, he hated that! Sorry, Rick! I'm thirty now and have played for some great bands, including Bury Your Dead and Between the Buried and Me. I've also filled in for the Acacia Strain, and I even had the chance to play three songs with Machine Head one night.
So how did I go from a metal background to playing for the rock band Crossfade? Long story short, after touring for thirteen years and meeting different bands and drummers around the world, I got word that Crossfade needed a drummer. One eighteen-hour drive and a tryout later, I somehow landed it. I'm always asked why I left heavy music for rock. Well, to be honest, I listen to everything from metal to hip-hop and R&B, so making this move was very smooth and comfortable for me. I love playing with Crossfade. They are amazing musicians as well as friends. So, in keeping this short and sweet—that's my story and I'm sticking to it! Look for the new Crossfade album that came out on June 21, and catch us on tour.
I play a black Crush chameleon kit with Remo heads, Sabian cymbals, and a custom Silverfox drumstick model called the Thrasher. Hope to see you on the road!
For more on Mark Castillo and Crossfade, go to www.crossfadeband.com.