Jeremy Williams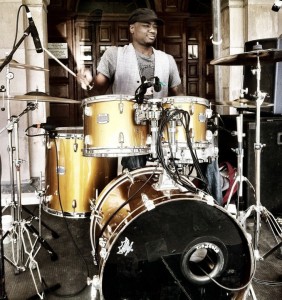 Hello, MD! It's fair to say that some careers are more predictable than others. If you want to be a lawyer, you go to law school. If you want to be a doctor, you go to medical school. Dreams of being a policeman? Go to the Police Academy. Unfortunately, if you've got aspirations to be a drummer, things aren't as clear. What class can I take that's going to land me a gig with my favorite artist? How can I land a studio session? I want to play television shows and award shows—where do I apply? What are the steps? What credentials do I need?
Unfortunately there is no right or wrong answer, or any applications to fill out. Some drummers auditioned to land their gigs, some didn't. Some knew somebody, some didn't. There is no set formula for being successful in music. Everyone's story will be different—but this can make your journey even more exciting!
Do you really want this? At twenty-three years old, this is still a question I constantly have to ask myself. I grew up playing in church. I've been traveling and recording since I was nineteen. However, my first professional gig was playing four hour-long sets of '80s rock covers at various casinos across the state. Advertisement
It doesn't take long to figure out whether being a musician is something you want to make a career out of. The fun part about "rocking out" quickly goes away with extensive set-lists, long rehearsals, time away from family, and lack of consistency. I toured briefly for six months, then I began to work on more original projects with singer/songwriters in Nashville (where I reside). In addition to side-work, I'm a member of Slow Motion Centerfold and the Chris Nathan Band. I'm quite busy with these acts, but I also teach private lessons and host free drum clinics on a monthly basis. Ironically, there isn't a vast number of drum clinics going on in Nashville, let alone by drummers who haven't played for any huge Top 40 artist or endorse of any drum product. It took me some time to gain that confidence to step out and do something that not very many people get a chance to, but I have ambitions to progress even further. I made the decision to be a musician. In that decision I chose to invest. Invest in the game of life. Invest in opportunity. One never knows when that opportunity may come. The only one sure step in establishing a career in music is preparation. Now, what that consists of is up to you. It's your time to roll the dice.
I have my own projects currently under development, as well as albums with other artists soon to be released. You can follow all this info as it's updated at www.twitter.com/iamjaywilliams. And please check out my YouTube page, www.YouTube.com/jsmooth33. I upload videos often, so subscribe if you'd like—and leave feedback! I will respond. I'm not a drum diva—not yet anyway! 🙂