J.D. Hall of Dreadfall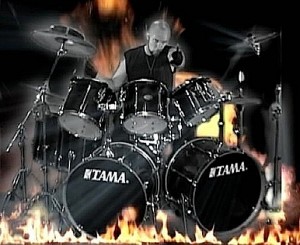 Hello, MD readers, J.D. Hall here giving a shout-out from the dark and desolate foothills of eastern Kentucky. Just wanted to start off by saying that I am honored to be a part of Modern Drummer Blogs! I'm a hard-hitting metal/rock drummer with a larger-than-life stage presence. I've been playing with unbridled passion since I was a young child.
I've played in numerous regional bands over the years and have placed in the top of several national/international drum competitions, which I am proud of. I have years of live and studio experience, and I'm a versatile musician. Even though metal and hard rock are my favorite genres of music, I appreciate and play various styles.
Currently I'm drumming for the Kentucky-based metal band Dreadfall. We'll be touring our tri-state area this summer, and I'm planning on putting on a number of drum clinic/exhibitions in my region for later in the year. I'll be posting some new videos etc. to my FaceBook page as well. I always keep my eyes open for that "big break," should it come my way—I've certainly paid a lot of dues! In the end, it's all about the love of drums and drumming—and I certainly have the love and passion, Thanks for reading. Advertisement
For more on J.D. Hall, go to www.facebook.com/profile.php?id=100001645357959.