Fred Coury of Cinderella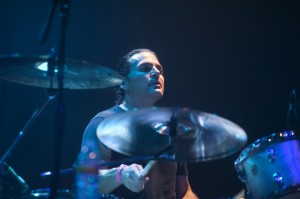 Howdy all, Fred Coury here, writing from a hotel room near Düsseldorf, Germany. Twenty-five years after we started our first tour, I find myself in Europe once again, fighting stomach issues (we all go through it from the foods and water that we're just not used to) and sleep deprivation. It's like Navy SEAL training, but without the weapons or the rescue missions. Actually, it's nothing like that. It's a cakewalk. Five-star hotels and first-class travel, but…we still find stuff to complain about. It keeps us busy!
Today I'm writing about adapting. We are using rental gear throughout Europe and South America. I've tried it in the past with only my pedals and sticks, but this time I've brought my cymbals, throne, snare stand, hi-hat stand, sticks, and pedals. It has made life out here much more bearable. If your kick, hats, and snare are right, everything else is icing on the cake. My tech (new after eleven years with the same one) has everything ready by the time I show up at soundcheck.
I must admit that I'm pretty demanding of my tech, and my setup needs to be perfect—not only heights and placement but also feel and sound. The tuning is very important, not only to me but to the rest of the guys too. We've all gotten accustomed to the best FOH and monitor guys, so we expect great sound on stage, in the ears, and out front. That's where the tuning comes in. All of the credit goes to the crew. Our job as drummers is to show up, give 100 percent for an hour and a half, play our best, and put on a show—and we get all of the credit. But it really should go to the guys behind the scenes. Advertisement
Take yesterday, for example. Our lobby call was at 5:30 A.M. in Moscow, after getting back to the hotel at 2 A.M., and we arrived in Düsseldorf at noon. Checked into hotel at 1, and the crew went directly to the venue for a "throw and go" (part of a festival that we headlined—eight bands, no soundcheck…and by the time our crew got there, the show had already started). Talk about pressure! As I napped, my tech, Geoff Bruce, was at the venue sorting out the drums du jour and dealing with the language barrier. The monitor engineer was checking out the monitor desk between bands and trying to piece together a mix with simple line checks, and our FOH engineer was trying to set up input channels in the house. They get a ten-minute slot out of the twenty between each band, until the direct support for Cinderella is done. At that point they take what time they need for us to put on the best show possible.
Thankfully, DW now reaches all of Europe, and all of the kits have been surprisingly awesome. Different-size drums and heads each night (as not all back-line companies have 26″ kicks) make it challenging for me as a player and for my tech for the setup, but we get through it each and every night and seem to make it work. It could be a lot worse, and we're very thankful to be able to do this for twenty-five years at a pro level. So I guess this has turned into a thank-you to all of the crew guys and drum techs out there who have to do all the adapting and work to make us drummers able to get up there and just have a blast. Thanks for listening.
For more on Fred Coury, visit www.doublefortemusic.com.
Photo by Alex Solca.