Dillon Ray of Burn Halo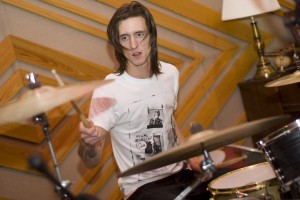 What's up, everybody? This is Dillon Ray from Burn Halo. I was super-excited when I heard Modern Drummer wanted to hear what the D Ray had to say. I've been reading the magazine for as long as I can remember.
Once I could hold a pair of sticks I'd sit on my dad's lap and play drums. Everyone in my family plays something musical. I'm from Tulsa, so as you can imagine country music was a strong backbone for me. It taught me a lot about simplicity and finding a deep pocket. I turned eighteen and started hanging out with dudes that were into rock, punk, and hardcore, and I've been playing it all since then.
I went through it all with Aaron, our bass player, and since the beginning of BH he had been trying to get me in the band. Well, the time finally came, and it couldn't have been a better time. I was starting fresh, and so was Burn Halo. Advertisement
When I joined up with the guys about a year and a half ago, I immediately started touring. It was a lot harder than I had anticipated, since I had never toured before. I wasn't used to setting up, giving it my all, then tearing down every night, only to go to a hotel room and work on new songs.
They had just started writing material for the new record, Up From the Ashes. I immediately felt part of the team as far as helping with writing and arranging. It was probably one of the most time-consuming processes I've been a part of, but it was worth every second. Playing the songs off the self-titled album was a blast, but I'm super-stoked for everyone to hear the Burn Halo material with my stamp on it. Cheers!
For more on Burn Halo, visit www.myspace.com/burnhalo.