A Different View with Danny Kortchmar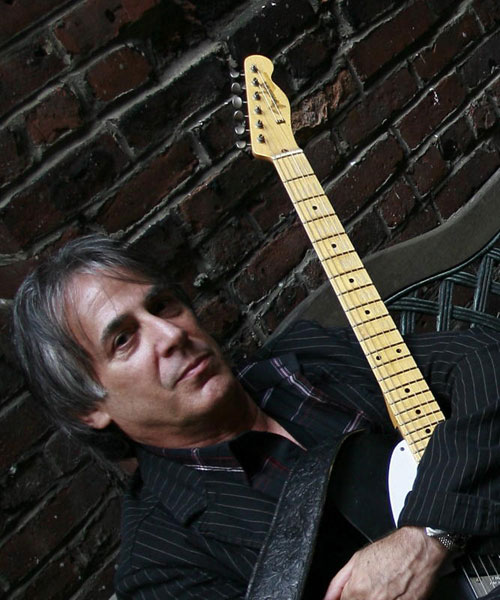 By Billy Amendola
More with the world-renowned right-hand man to rock's singer-songwriter royalty, who is featured in the Different View column of the September 2011 issue of MD. Here Danny talks about some of the drummers he's worked with over the years. 
As a solo artist, sideman, co-writer, and producer, Danny Kortchmar has done it all (including playing drums). His career started to take form in 1967, after forming the Flying Machine, featuring drummer Joel "Bishop" O'Brien and the then-unknown singer/songwriter James Taylor. When Taylor decided to make a move to London in the late '60s, it was Kortchmar who turned the singer on to Peter Asher. Asher's stint with the hit vocal duo Peter & Gordon led to a post as head of A&R for the Beatles' newly formed Apple Records, and he immediately signed Taylor after playing James' demo for "label bosses" John Lennon and Paul McCartney. To put it in drummer terms, Taylor and "Kootch," as his friends call him, have been in each other's pocket ever since.
In 1968, with his friend living in London, Kortchmar left his hometown of New York to head out to the sunny climate and promising creative scene of southern California. Danny ventured out west with ex-band mate Charles Larkey, the bass player from one of his previous bands, the Fugs. The two had met Brill Building songwriter Carole King in New York, and, hooking up in L.A., formed the City, with King on vocals and keyboards, Kortchmar on guitars, percussion, and vocals, and Larkey on bass. After the City called it quits as a unit, producer Lou Adler encouraged King to go solo, but Kootch and Larkey became part of her studio back-up group, contributing significantly to her highly successful solo career. This association opened many doors for Danny, who soon found himself doing more and more session work in L.A. He played on most of King's records, including her masterpiece, Tapestry, as well as most of Taylor's albums, from Sweet Baby James on.
The list of drummers Danny has worked with as an artist, producer, and songwriter is astounding. Here we ask Kootch to fill us in on what he digs about some of the more prominent players on that list. Advertisement
Joel O'Brien
Joel's drumming was more of a jazz style than rock 'n' roll. I don't think Joel was ever totally comfortable playing rock. He was very influential to James [Taylor] and myself, though. He had extraordinarily wide-ranging tastes, and he turned James and me on to an awful lot of great music. He knew everything about jazz, blues, deep country music, bebop, R&B—and not just music, he was an encyclopedia of American culture. Joel was tremendously influential.
Russ Kunkel
Russ is several things—one, he has a fantastic sound. It's all his own—even on a cheap, crappy set of drums. The other side of it is that Russ was more influenced by Ringo than by Joe Morello. He wasn't a jazz drummer, he was the first drummer I played with who was truly a rock drummer—and I really dug that about him.  He's also a very astute player of songs. When we first started playing in the songwriter movement, he listened very carefully to how he could integrate what he was doing into the song. That's something all musicians coming up should know—you don't get paid to play flashy, you don't get paid to play solos—you get paid to help the band. The first thing you do when you walk into a session is listen: What's going on? You react to what's going on and help whatever the situation is to be.
Steve Jordan and Jim Keltner
I don't even have the words to describe how much I love and respect Steve. He's one of my best friends in the world, and I love him like a brother. I've been playing with him a long time. In my opinion he's one of the finest musicians of the last century. He plays great bass, great guitar, he writes…he's an all-around cat. We played in a lot of different circumstances together, and we always have a ball—no matter what genre. As a producer I'd hire him for a country record just as fast as I'd hire him for a Dap Kings record. Advertisement
Also, he listens to the song and then sets up his kit according to what he thinks is going to be right for that song. Once he gets going on a beat, even one that you've heard everyone play, it becomes his own and he makes that thing groove. He doesn't have to play loud, or bash; he's got more feel, sound, and taste than just about anybody I've ever played with. The only other guy I would mention in the same sentence is Jim Keltner.
Jim also has phenomenal taste and musicality and is capable of so much music. I used to sit down at his kit and play, and it's like a piano. It's so musical. And Jimmy also has his own way of doing things. He plays so correctly that he doesn't have any calluses on his hands. He's tremendously creative. He was the first drummer I'd seen tape stuff to his leg and put a tambourine in front of the bass drum—all this different cool stuff that no engineer or producer could ever dream of. When we were doing our band Attitudes, the way he's kicking it on those tunes is just off the charts, with that big slamming snare drum. When you hear that now, you think Stewart Copeland, but this was 1974. He's got a phenomenal range and amazing taste, and that has a lot to do with being a great musician.
One of the finest moments I ever had was doing a session date early in my career at Ocean Way, and Jim was on drums. I had just met him, and he didn't even look at me. Then after we started playing a couple of takes, he turned to the engineer and said, "Could you move this baffle out of the way so I can see that guitar player over there"? And from that day on, we became friends. I think he could hear that I was playing with him, I wasn't playing over him or ignoring him. He told me, "I like that!" and then after a while he started taking me around town and would introduce me to everyone as "Kootch, my guitar player." That's all he had to say and all of a sudden I was playing with Ringo, John Lennon, Mick Jagger, Dylan, everyone you could ever imagine, just because I knew Jim. He was my rabbi. The opportunities he gave me are priceless. I was so fortunate that I connected with Jim. He and his wife, Cynthia, are some of the finest people you could ever meet in your life. He is absolutely as fine as human beings get. Advertisement
Jeff Porcaro
I co-wrote wrote the Toto song "Kick Down the Walls." I played with Jeff a lot of times. I used to teach Jeff beats. [laughs] I would come up with these weird backwards beats at home on my kit, and when I'd see him he'd say, "Show me what you've got, give me one of those beats." That always blew my mind, that I was showing Jeff beats.
When I first met him he was a kid. Then I realized that this was the drummer I was watching on the Sonny & Cher TV show. He and I got along like a house on fire, immediately. Hilarious, great guy. He was a really important musician. When he died it was like somebody shot a cannonball right through the entire music scene. I'm not talking about the business; I'm talking about the music, all the musicians. People still talk about Jeff. It's like he's still here."
Rick Marotta
Ricky plays way behind the beat. I think he does it to say, "That's me." It's his personality. He's got a really different way of doing things from any drummer I heard. I think it's great to play rock 'n' roll with him because he's got that beat back so far. I haven't played with him in a long time. Advertisement
Ringo Starr
When I saw Ringo on TV, it impressed me tremendously. I'd never seen anyone play like that—sloshing the hi-hat and hitting 2 and 4 with matched grip. To me, that was real rock 'n' roll. And I think a lot of us felt that way. I got to play with Ringo several times. I played on his album Ringo's Rotogravure, and we did Harry Nilsson's record Pussycats, which had both Jim Keltner and Ringo on drums—and at one point, Jim, Ringo, and Keith Moon all together!
Keith Moon
I played on his solo record [Two Sides of the Moon] and that was fun. Keith had his own way of doing things. He mostly sang on that record and Keltner played drums. Keith was a very sentimental guy and a lot of the songs he liked were not what you would think for a guy with his image, but in real life he was an absolute doll. His playing was doing his version of Gene Krupa or Buddy Rich—there were constant fills and constant motion. You really don't hear anyone play like that anymore.
Shawn Pelton
It seems like I've known Shawn forever. Years ago he and I were getting together and fooling with the loop-based software Ableton Live. I would bring mine over to his place and we'd use that program plus live drums, with me playing guitar. We came up with a few really groovy things that way. I knew his groove because I'd played with him a few times and heard him play on Saturday Night Live. I knew he had the big beat. But what I didn't realize was that he was also capable of grabbing weird stuff and taping it to his kit and just playing something like a guiro part, playing on tambourine, playing on the rim instead of the hi-hat, and doing all this other stuff, the kind of stuff I had seen Jimmy Lee do. Shawn is capable of a tremendous amount more than you see him doing on Saturday Night Live. He's a very inventive guy. He feels things differently from Steve, and he has his own way of doing things. It's very identifiable to me. The fact that he's so interesting while creating this badass groove, using everything he's got, makes him a real artist. Advertisement
Jim Gordon
Jim Gordon was more like a Hal Blaine type of player. He played on top of the kit with a lot of tom fills. The way they miked him on the first session I did with him was maybe three or four mics at the most—an overhead, one in front of the kick drum, and then over on the side, and that was it because he knew how to play the whole kit. He already knew how to mix himself. If he wanted the cymbal louder, he played the cymbal louder. That was just before the mid-'70s kicked in and everyone went into the shag carpet room.
In the '70s, the engineers took over. They isolated the drummer by putting him in a separate room, cutting him off from the rest of the band. They also isolated the drums themselves, taping them up and following the idea that the kick and snare are two different things…the toms are another thing…the cymbals as another thing. To me, this is exactly the wrong way of doing things. When I hear a lot of those records they sound dated and claustrophobic to me. It's a kit. It's like if you took an acoustic guitar, you don't mike every string on an acoustic guitar. Fortunately that approach didn't last too long. By the time the '80s came around, artists and producers like myself said, "No, move the drums out of the booth…. I don't care what you did or how many hits you had, we're not doing it like that anymore. Move the drums out into the room, take all the shit off them, and you can only use four or five mics." You had to force them to do it and they'd kind of grumpily go along with you. Working with Don Henley was a big part of that, and working with the great engineer Greg Ladanyi, who didn't care at all about that stuff. He'd make a record in a bathroom or closet, and always get a great sound.
Don Henley
Don is real meticulous. His drum parts always end up being exactly the right thing for what he's doing. The last time I saw the Eagles play, Scott Crago played drums on most of the set, but when Don went up and played "Life in the Fast Lane"…there's just no mistaking that beat and drive. And the thing with Henley is, he's not a session guy, he's a band drummer. He works up his parts and he plays them the same every time. I know he doesn't really like to talk about drumming, considering what a wonderful artist and songwriter he is. Advertisement
Stan Lynch
Stan always had a great beat. He's a hardcore rock 'n' roller from the ground up. He plays in what I would call an English style—he sounds like Simon Kirke or Aynsley Dunbar. He's a very smart and funny guy. What I loved about him was that he was the opposite of Steve Jordan. He played fills Steve would never play, but with real conviction and energy. It really reminded me of the first generation of rock drummers. The other thing about Stan is that he gets a really big, rich sound out of his kit. I used him on several records as a session cat—which he had never done before. And then we ended up writing several songs together—Stan's a very good guitar player, and he can play bass. Just about all these guys I've talked about play other instruments besides drums, and they're all very good. Russ is a really good guitar player, for instance. All the really great drummers I know can play other instruments, and that adds tremendously to what they have to offer as a drummer.
Kenny Aronoff
I'd heard Kenny play on those John Mellencamp records and knew this guy could kick ass every which way from Sunday—there was no question about it. He was leading the band. There was no soloist in Mellencamp's band. Kenny was like the only instrument. When I got the job to produce Jon Bon Jovi's solo album Blaze of Glory, Jon wanted Jeff Beck on the album, and Jeff had agreed to do it. Jeff recommended that Jon use drummer Terry Bozzio, who was in his band. Now, don't get me wrong, Bozzio is great, I have nothing but respect for him. But I felt he was not the right guy for this project. So I convinced Jon to get Kenny Aronoff. I didn't know Kenny at the time, I'd never met or played with him, but I knew in my bones he was going to be great. And of course he was. I can look at a drummer for two seconds and tell you whether or not he's going to be my guy.
Check out Danny's Different View interview in the September 2011 issue of MD. And for more on Danny visit www.dannykortchmar.com.
Advertisement