Steve Clifford of Circa Survive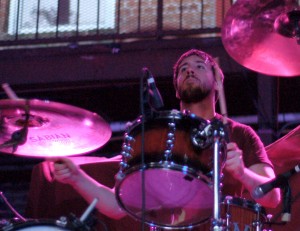 Hello, reader of Modern Drummer, my name is Steve Clifford and I play the drumset in the band Circa Survive. I'm really excited/honored to be a guest blogger for MD. Before I dig into my story I wanted to give you all a quick update of what we've been up to. We released our Appendage EP, which is an extension to our third full-length album, Blue Sky Noise. We've also released a deluxe version of Blue Sky Noise on vinyl. It's been a great start to 2011 for us, lots of good things ahead as well.
As for a bit about me, I grew up in Hamilton, New Jersey. It's a boring suburb with nothing to do. When I was twelve years old I found a drumset in the garbage. I had built a few drumkits prior to that out of recycling cans and K'NEXes, but I think it was finding a real kick drum pedal that really got me started. From that point on I was addicted. I've always loved music; whenever I listened I would tap my feet and slap my stomach. Eventually drums were the natural progression. I never took any real lessons, but over the past bunch of years I've spent a lot of time on my rudiments and chops.
Music as a whole has always been more of an influence on me than any individual drummer's playing. Interestingly, the most extreme ends of the spectrum have always influenced me. Starflyer 59, Slowdive, and Pedro the Lion are as much of an influence on me as Meshuggah, Dillinger Escape Plan, and Converge. I do really admire Josh Freese, though. I think he's the best example of perfect drumming. He knows how to effectively hold everything together, yet keep it interesting without overplaying. A Perfect Circle's Mer de Noms has probably my favorite drumming ever. Advertisement
This time last year we were still working on recording Blue Sky Noise with David Bottrill. It was my favorite recording experience thus far in my career. However, we didn't do too much experimenting recording-wise, at least in terms of the drums. The songs didn't call for it. One day I hope we do a record where every song has a different drum setup with different mics in different rooms. I'll cut it all up in Ableton, and then record it back onto tape, throw it down a hallway and side-chain the cymbals to me snapping my fingers. First I have to learn how to snap my fingers, though. Ha!
The kit I'm playing right now has bubinga stave shells. I want every kit I have to be made from a completely different material. So if and when I live to sixty, I'll be able to talk about all types of drums and sort of know what I'm talking about!
I endorse Pro-Mark drumsticks and Sabian cymbals. They're both amazing companies, and I could never imagine playing anything else. SJC custom drums are building me a new kit right now, with single-ply cocobolo steam-bent shells. My main snares right now are a 6 1/2×14 Black Beauty knock-off and an 8×14 maple Pearl free floater. Advertisement
That's all I have for now. Hopefully you enjoyed reading a bit about the band and me. I hope to see all of you out at a Circa show soon, and when you do, come say hi! Thanks again to MD for having me.
For more on Steve Clifford and Circa Survive, go to www.circasurvive.com. Photo by Todd Fixler.