Rob Griffith of <BR>Bronze Radio Return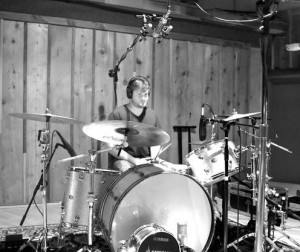 Greetings, everybody! Rob Griffith from Bronze Radio Return here. We're an indie roots-rock band from Hartford, Connecticut, and we've just released our second full-length album, Shake! Shake! Shake! I feel very honored to be writing for moderndrummer.com. I have about twelve years of Modern Drummer back issues stacked in my basement, and my favorite issue is from August, 1997—the tribute to Tony Williams. Tony's one of my favorite drummers, and this issue had great stories and insight on his playing.
I'm a 2007 graduate of the Hartt School of Music at the University of Hartford in Connecticut, where I studied music management and jazz performance. It was great to have a blend of music and business. I learned early on that even some of the most talented musicians will struggle to get work if they don't know how to manage their careers. Throughout college I did a lot of local gigging, sometimes ringing in six to eight gigs a week. Throughout my years at school I did a lot of networking, which eventually led me to meet the guys who are now the members of Bronze Radio Return. Most of the band and crew attended Hartt.
Shake! Shake! Shake! was recorded in Norman/Tulsa, Oklahoma. All drums were tracked at Church Studios in Tulsa. This place had a great tracking room and a haunting vibe. During the recording process, I had access to about eight different drumsets and a vault of cymbals. Our producer, Chad Copelin, arranged all these different options for me so we could spend time messing around with different sounds. I need to "shout out" Chad as being one of the meanest tambourine players I've ever seen! His concept involves really tailoring each part of the drumkit to the song. We used mostly vintage drums, mainly old Camco and Ludwig kits, and it was never all the drums from one kit; we were always mixing and matching. We also used some DW drums (which is what I play when touring) and some really amazing Montineri Custom drums (made right up the road from us in Simsbury, Connecticut!).  My favorite kit included a 28″ vintage Ludwig marching kick drum, Montineri toms, and an old Ludwig Black Beauty snare drum. Advertisement
I've been told that my drumming on Shake! Shake! Shake! is simple but interesting.  For each song we took basic drumming ideas and said, "How can we make this more interesting"? because we didn't want it to sound like a "pop" record. We didn't include a lot of crazy fills or metric modulation, just good old-fashioned groovin'. A good example is on the song "Blurry-Eyed Worries." We initially had a completely different groove but weren't feeling it once we hit the record button—and actually considered scrapping the whole song. But we came up with this happy-sounding, 16th-note pulsing, Motown-ish groove that helped revitalize it. Our lead singer, Chris Henderson, really likes to write songs with "four on the floor" in mind. This has allowed me to get more creative with the basic concept, as demonstrated by the drumming on "Rough Town." A personal favorite is "Warm Day, Cold War." The song has a cool and busy bass part and was really fun putting a beat to. We used a pair of 10″ splash cymbals as hi-hats for that one.
RIP Joe Morello. He was a great teacher to me and many others. His drumming lives on forever!