Killswitch Engage's Justin Foley Joins Unearth on Mayhem Fest and European Hell On Earth Tour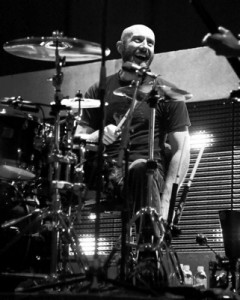 Massachusetts metal merchants Unearth have officially welcomed Killswitch Engage drummer Justin Foley to the fold for the band's upcoming slot on this summer's Rockstar Energy Drink Mayhem Fest and their European headlining tour (dubbed the Hell On Earth Tour) to follow. Foley, who also performed on the band's upcoming Darkness In The Light full-length, takes the place of former drummer Derek Kerswill, who parted ways with the band last year due to creative differences.
Comments vocalist Trevor Phipps: "It's great to have Justin on board for Mayhem and Hell On Earth. We really wanted to start this album cycle with Justin behind the kit since he played on and completely slayed the new album. We've been friends for a long time and we recorded an album together, so this just makes sense and it gives us even more to look forward to this summer."
Adds Foley: "I'm really looking forward to playing with some old friends, and spending a summer full of beers and breakdowns!"
Darkness In The Light, which national horror portal Fangoria.com already commended for its "tight riffing, varying from technical pedal-style patternsto twin-harmony Maiden/At The Gates worship, plus all the brutally chugging breakdowns," is UNEARTH's fifth full-length. Scheduled for release in North America on July 5, 2011 via Metal Blade Records, the 11-track long player was recorded at Zing Studios in Westfield, Massachusetts with producer/Killswitch Engage guitarist Adam Dutkiewicz and mixed at Audiohammer Studios in Sanford, Florida by Mark Lewis (The Black Dahlia Murder, Whitechapel, Trivium, et al). Advertisement
Darkness In The Light will be streaming in its entirety exclusively on Alternative Press Magazine's website beginning Monday, June 20, 2011. Stay tuned for a direct link to hear the record two weeks before it hits streets! And don't miss UNEARTH on tour this summer!
UNEARTH:
07/05/2011 Jakes – Lubbock, TX  w/ Turbid North
07/06/2011 Club 101 – El Paso, TX w/ Turbid North
07/08/2011 Hard Rock Café – Las Vegas, NV w/ Turbid North
UNEARTH on 2011's Rockstar Energy Drink Mayhem Festival w/ Disturbed, Godsmack, Megadeth, Machine Head, In Flames, Trivium, Suicide Silence, All Shall Perish, Straight Line Stitch, Kingdom Of Sorrow, Red Fang:
07/09/2011 San Manuel Amphitheatre – San Bernardino, CA
07/10/2011 Shoreline Amphitheatre – San Francisco, CA
07/11/2011 Hawthorne Theatre – Portland, OR *Off Date w/ Suicide Silence, All Shall Parish
07/12/2011 White River Amphitheater – Seattle, WA
07/13/2011 Idaho Center Amphitheatre – Boise, ID
07/15/2011 Cricket Wireless Pavilion – Phoenix, AZ
07/16/2011 Hard Rock Casino Presents: The Pavilion – Albuquerque, NM
07/17/2011 Comfort Dental Amphitheatre – Denver, CO
07/18/2011 Granada Theater – Lawrence, KS *Off Date w/ Suicide Silence, All Shall Parish , Red Fang
07/19/2011 Verizon Wireless Amphitheater – St. Louis, MO
07/20/2011 Riverbend Music Center – Cincinnati, OH
07/22/2011 Comcast Center – Boston, MA
07/23/2011 Parc Jean Drapeau – Montreal, QC
07/24/2011 The Comcast Theatre – Hartford, CT
07/25/2011 Lost Horizon – Syracuse, NY *Off Date w/ All Shall Parish
07/26/2011 Club Texas – Auburn, ME *Off Date w/ Suicide Silence, All Shall Parish
07/27/2011 P.N.C. Bank Arts Center – Holmdel, NJ
07/29/2011 First Niagara Pavilion – Pittsburgh, PA
07/30/2011 Jiffy Lube Live – Washington, DC
07/31/2011 Susquehanna Bank Center – Camden, NJ
08/02/2011 Verizon Wireless V. Beach Amphitheater – Virginia Beach, VA
08/03/2011 Time Warner Cable Music Pavilion at Walnut Creek – Raleigh, NC
08/04/2011 Peabody's – Cleveland, OH *Off Date w/ Suicide Silence, All Shall Parish
08/05/2011 First Midwest Bank Amphitheatre – Chicago, IL
08/06/2011 DTE Energy Music Theatre – Detroit, MI
08/07/2011 Verizon Wireless Music Center – Indianapolis, IN
08/09/2011 Zoo Amphitheatre – Oklahoma City, OK
08/10/2011 Superpages.com Center – Dallas, TX
08/11/2011 New Daisy Theatre – Memphis, TN *Off Date w/ Suicide Silence, All Shall Parish , Red Fang
08/12/2011 Lakewood Amphitheatre – Atlanta, GA
08/13/2011 1-800-Ask-Gary-Amphitheatre – Tampa, FL
08/14/2011 Cruzan Amphitheater – West Palm Beach, FL
UNEARTH on the European Hell On Earth Tour w/ Evergreen Terrace, Bane, Nasty, Casey Jones and Full Blown Chaos:
08/26/2011 F-Haus – Jena, Germany
08/27/2011 Essigfabrik – Köln, Germany
08/28/2011 Vorstin – Hilversum, Netherlands
08/29/2011 Islington O2 Academy, London, UK
08/30/2011 Fleece – Bristol, UK
08/31/2011 White Rabbit – Plymouth, UK
09/01/2011 Moho Live – Manchester, UK
09/02/2011 Derby – Derby Redemption, UK
09/03/2011 Rock im Loch Festival – Lünen, Germany
09/04/2011 Trix Zaal – Antwerpen, Belgium
09/05/2011 Faust – Hannover, Germany
09/06/2011 Markthalle – Hamburg, Germany
09/07/2011 The Rock – Copenhagen, Denmark
09/08/2011 Hot Spot – Kassel, Germany
09/09/2011 Garage – Saarbrücken, Germany
09/10/2011 LKA – Stuttgart, Germany
09/11/2011 Gare de Lion – Wil, Switzerland
09/12/2011 Werk – Munich, Germany
09/13/2011 Explosiv – Graz, Austria
09/14/2011 Statsaal – Spittal an der Drau, Austria
09/15/2011 Abaton – Prague, Czech Republic
09/16/2011 Conne Island – Leipzig, Germany
09/17/2011 SO 36 – Berlin, Germany
09/18/2011 Into The Pit Festival – Vincenza, Italy
09/19/2011 Komma – Wörgl, Austria
09/20/2011 Halle 02 – Heidelberg, Germany Advertisement
Worldwide Release Dates:
Darkness In The Light will be released in Germany, Austria, Switzerland and Norway July 1, the rest of  Europe on July 4, North America, Spain and Italy on July 5, Finland and Hungary on July 6, Australia July 8 and Japan on July 27.
www.darknessinthelightalbum.com
www.unearth.tv
www.facebook.com/unearthofficial
www.twitter.com/unearthofficial
www.myspace.com/unearth