Greg Burrows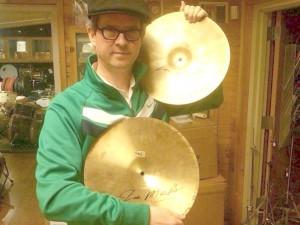 Hi, Greg Burrows here. I'm honored to write a blog for Modern Drummer magazine, a publication I've been reading since the very first issue, which came out when I was in my early teens. There have been hundreds of articles and exercises in MD that have influenced and shaped who I am as a professional player today—and I'm still learning and improving, each and every day, in my fortieth year of playing drums.
I have a diverse background and extensive experience in the full spectrum of a fairly typical working New York City drummer: I've played off-Broadway shows (briefly, Blue Man Group: Tubes back in the 1990s), Brazilian samba, weddings, bar band gigs, and modern dance classes (a great, creative opportunity for drummers. These days I tour with psychedelic cumbia band out of Brooklyn, New York, Chicha Libre (sharing timbale duties with the astounding Karina Colis). I love all types of music—though if you stick me on a dessert island with only one choice of music, it would have to be jazz. The subtlety, skill, musical level, listening, and brush work necessary to be a jazz drummer is exactly what I want to do when I grow up (and at forty-eight, I've got a ways to go).
I've studied with the great Joe Morello (whom, sadly, we lost recently), Henry Adler, Gary Chester, and Bob Moses on drumkit; Montego Joe and briefly the legendary Milton Cardona for Latin percussion; and numerous other teachers. These days I'm focused on mastering the incredible Korg Wavedrum drum synthesizer and branching out into traditional old-time percussion stuff like playing the spoons and bones, as evidenced by the background track that I recorded for a national TV commercial released April 2011 for Gerber Yogurt Blends Snacks. You can watch here: www.youtube.com/watch?v=yyoTPtG6ovc. Advertisement
I'd like to discuss a fun, challenging musical situation that I was presented with recently—playing a gig without a bassist. A guitarist friend named George Kormendi called me to see if I was available to play with him and a second guitarist, the truly awesome Kenny Wessel. All bassists within our circle of players were working that night, so George had the audacity to bring me in on a gig with two guitars and no bass—and requested that I added hand percussion to my standard Canopus Club Kit drums. I said, "Gulp…no problem!" But secretly, I was a little nervous about it: Would I overwhelm the melodic/choral interplay of two guitars? Would I be able to add rhythmic propulsion to this situation without keeping steady time on the bass drum going boom-boom-boom…how would I pull this off without sounding clumsy or—worse—boring?
Well, we did pull it off. The decision I made at the outset was to do very little differently from what I normally do with a bassist present. And the key word of the evening for me was space. Leave plenty of space! There was no need for me to play every second. Why not let the head (melody) begin without me and sneak in later, for example? Or simply drop out when the two guitars go into a collective chorus or two? And being a quiet, low-key gig, a lot of brush playing was in order. And the bodhran (frame drum) I was using as a floor tom came in handy for sensitive finger playing.
If and when you play nice, steady, grooving time—so that the musicians around you can feel secure with the groove—there's no need to go too wild with cymbal colors, wild fills, and self-indulgent showcasing of "me." I served the whole picture, and we ended up having some serious fun since, for all three guys, our egos where checked at the door. Advertisement
If you play jazz, blues, or some form of music where upright or electric bass are expected at every gig, see what happens if you don't cancel a rehearsal or gig when no bassist is available. Or (sorry bassists) book a date minus bass and see what happens. It's challenging, feels very strange at first, and has a totally different sound and feel from a typical bass-anchored gig. I recommend the experience!
For more on Greg Burrows, go to www.facebook.com/profile.php?id=1108353986 or www.youtube.com/user/gregoryburrows?feature=mhum.