Nate Morton of The Voice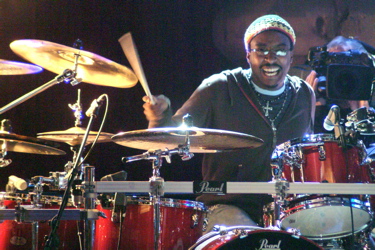 Hi, MD readers. I thought I had faced musical challenges and done difficult gigs. And I believed I knew what it was like to learn a large amount of material in a short time—recording ten songs in a day seemed like a lot, and a ten-hour day was long. But that was all before being asked to be the house-band drummer on the new NBC series The Voice. I'm not complaining, though. Where's the fun in a life without challenges?
When rehearsals began back in February, the band started by learning the pool of songs the contestants would be performing in the "blind auditions." I think there were around seventy contestants, but as certain songs changed and were swapped for others, the total number of songs we had to learn in the first two weeks climbed to over one hundred. That's when having a system for song arrangement shorthand comes in very handy! I don't think the system I use is anything genius at all—in fact, it's extremely simple. But since I get asked a lot about learning that volume of material in such a short time, I will briefly explain how I go about notating an arrangement.
Since the majority of the material is mainstream pop, rock, and country, the drum grooves tend to be fairly straightforward, which lends itself to this style of shorthand. Moreover, locking with my rhythm-section partner, Sasha Krivtsov, has always been more important to me than following a note-for-note transcription of the groove. So when I see a song title, I may write something beside it like, I4-V8-PC4-C8-S4-C8-O4-dwnbt crash. That's shorthand for a four-bar intro, followed by an eight-bar verse, a four-bar pre-chorus, an eight-bar chorus, a four-bar solo, an eight-bar chorus, and a four-bar outro, with a crash on the downbeat. Like I said, it's very simple. If the arrangement is more involved, or if I need to notate a change in the drum part—for example, if there's a kick on the & of 3 going into the chorus or a particular section is long so I want to break it down so it's easier to digest, I might modify the arrangement chart like this: I4-V8+8-PC4(3&)-C8-S4(closed hi-hat)+4(open hi-hat)-C8-O4(crash-ride)-dwnbt crash. I will notate half bars for a bar of two beats. For example, a four-bar verse where the last bar is a bar of two beats becomes V3 1/2. Advertisement
I've been able to condense these arrangement "charts" to a length that will fit in the comments space in iTunes, so I often have my laptop beside me with iTunes open. It's easy to quickly reference the track if need be and do a quick read-through of the arrangement. When the cameras roll, I can play without my eyes glued to a music stand, and the sooner you can do that, the sooner you can worry less about the song form and more about playing music.
The next phase was to go into the Bomb Factory and make full-length recordings of the thirty-two winning songs. I modified my arrangement charts, adding sections previously cut for time, and we were ready to record. The recording process was equally intense. Our task was to track thirty-two songs in three days. Familiarity with the material helped, but it was still quite an undertaking. In addition to playing the parts, I also needed the right sounds. I swapped through twelve different snares, six rides, four sets of hats, and not that many crashes. (I got lazy there. Ha!) Having everything within arm's length made switching between options easy.
That's what happened during start of production on The Voice. It's been quite an adventure thus far, and I expect it will continue to be. I hope everyone enjoys the show. It's going to be a fun time! If you are interested in getting in touch with me, I may be reached via FaceBook or at www.natemortonstudioofdrumming.com. Advertisement
To learn about Nate's rock band Dootybug and their CD Playground Philosophy, go to www.CDBaby.com.