Ryan Pope of The Get Up Kids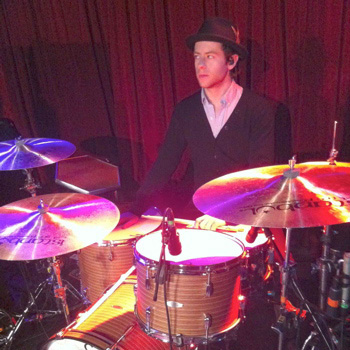 Hello, Modern Drummer readers. I'm Ryan Pope from Lawrence, Kansas, and I've been playing drums professionally and as a hobbyist for sixteen years. My band the Get Up Kids recently released our fifth full-length album, There Are Rules, on our own label, Quality Hill. We have been out touring the States, Australia, and Europe.
Part of what's made being on the road to support this record such a great experience has been my beautiful new C&C kit. I have one of the first kits C&C crafted with their own Gladstone shells. In the past I've preferred standard-sized kick drums—16×22 or 16×24—and for toms I use a 9×13 and a 16×16. With my latest kit, I chose to go with a 14×20 kick drum to help recreate the tighter sound we accomplished on the album. I've been fortunate to be endorsed by Istanbul cymbals for the past six years and prefer them to anything out there.
Bill and Jake Cardwell, owners of C&C, knew exactly what I was looking for when we began dreaming up this kit. The idea was to unite the old with the new and make a durable kit that looked as if it came out of the '60s. Years ago I bought a '69 made-on-Valentines-Day Ludwig kit and a '67 round-badge Gretsch kit from Bill. I had great success in the studio with these drums and I asked Bill why he wasn't making drums like these. He assured me that some day he would—and now it's happening! Advertisement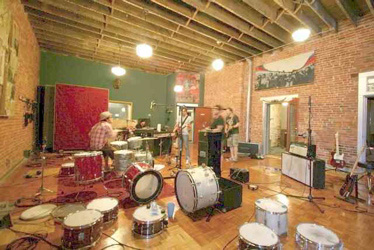 The recording of There Are Rules was done over the last two years at the Blacklodge recording studio, where I am a part owner. Ed Rose, my close friend and partner at the studio, engineered and mixed the album. Tracking the entire album to 2″ tape forced us to commit to takes. With Ed also being a drummer and collector, we work well together and are always dorking out with fun drum sounds. You'll find a more electronic vibe than on past Get Up Kids records, and we can thank Ed and his insane vintage Simmons drums for that. As much as I love traveling and performing live, being in the studio has always been my favorite aspect of making music. I feel spoiled having worked with such talented people in this crazy thing called the music business. It's been fun, and fun should always be a top priority.
For more on Ryan and the Get Up Kids, go to www.thegetupkids.com.