Jimmy Cobb: Kind Of Blue And Beyond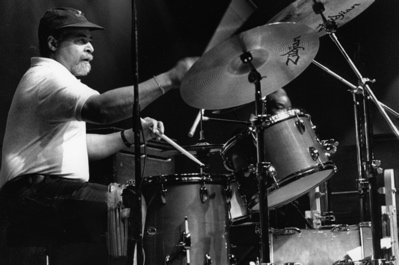 Jimmy Cobb was one of the most popular drummers of the late 1950s. He began playing at an early age and found his influences among the bop pioneers. "Max Roach was the hippest music going," remembers Cobb. "I also listened to Kenny Clarke, Shadow Wilson, and Sid Catlett. Then a little later there was Art Blakey and Philly Joe Jones."
Cobb was born in Washington, D.C., in 1929, began his professional career with Billie Holiday, and later worked with tenor saxophonist Charlie Rouse. After moving to New York at twenty-one, Cobb played with Earl Bostic's band for a year, and then went on to work with Dinah Washington, Cannonball Adderley, Dizzy Gillespie, and Stan Getz.
In 1958, after building a strong reputation as an adaptable jazz drummer, Cobb became a key member of the Miles Davis group featuring Cannonball Adderley and John Coltrane. This lineup can be heard on Davis's Kind Of Blue album, where Cobb's spirited time feel contributes to the success of this classic recording.
Cobb is one of the most solid time players to ever grace the jazz scene, and spoke on the subject in a 1979 MD interview. "I think the best way to improve your time is to play with musicians who have good time. You've got to listen to guys that play good time and get a feeling for it. Then you can go home and practice it. You can hear that feeling."
A highly imaginative player, Cobb also performed with Miles Davis and Gil Evans on the Porgy And Bess and Sketches Of Spain LPs. After leaving Davis in '62, he teamed with bassist Paul Chambers and pianist Wynton Kelly to form a trio that at one point backed up famed guitarist Wes Montgomery. When Montgomery left to form his own group, Kelly, Cobb, and Chambers stayed together until Chambers' death in '69. Cobb and Kelly remained together until Cobb joined jazz vocalist Sarah Vaughan in 1971.
Cobb performed and recorded regularly through the '80s and '90s and released a series of well-received albums as a leader in the first decade of the new millennium.