Jay Michaelis of State Line Empire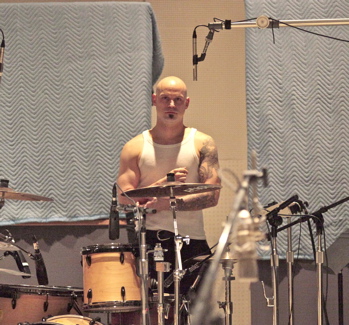 Hey Modern Drummer readers! I'm super stoked to be writing a blog for all of you, as I've been an avid longtime reader. I guess it all started when I was five, when I saw Buddy Rich and Animal from the Muppets do a drum duet. In the days before Ritalin, I was a crazy, hyper kid playing on the rug to my Kiss and Rodney On The Roq comp records. It was pretty easy to see that drums and music were it for me. By the time I hit middle school, I was asked to be the high school jazz band drummer, had immersed myself in lessons, and already had my first gig under my belt at Mabuhay Gardens.
Once I finally got the nerve to go for music full-time, I started teaching private lessons and even went back to school to fill in the gaps in my theory at SFSU. After touring more than thirty-five states (and Canada) with a few previous bands—and sleeping on more floors than I care to remember—I'm now a full-time professional drummer. I'm proud to say I teach all styles, from marching to break beat, metal to Latin, and have watched my students move on to The School of the Arts as well as earn musical scholarships. Handing down the gift of music has been extremely rewarding.
I've been fortunate to work with top producers in the music industry, such as Mike Clink (Guns N' Roses) and Sylvia Massy (Tool), and to record at East West Studios, NRG Studios, RadioStar, and Prairie Sun. I was voted Best Unsung Drummer from Bay Area Music magazine. And in my former projects, I opened for (or supported) System of a Down, Sevendust, Incubus, hedPE, Adema, the Offspring, and 311. I've had the good fortune to play a couple of arena shows, one at the Cow Palace (main stage) and one at the Shoreline Amphitheater (side stage at LIVE 105's BFD 2009). I continue to teach an award-winning drum line and have recently opened up my own music center, Green Room Music, which features rehearsal spaces, private music lessons, and a Rock Camp. Advertisement
I just finished an EP with my bros, State Line Empire. Thanks to Guitar Center's Your Next Record competition, our single "Drive Me" is graced by none other than Slash and produced by Mike Clink! The whole experience, including working with Guitar Center, the Collective, Jeff Varner, Mike Clink, and Slash, has been a dream come true—especially working so long, studying, and playing my ass off for more years than I care to admit. Being a perpetual student, I feel that it's what you learn after you know it all that's important. I've always been grateful that I get to do what I love for a living—this sure is one huge cherry on top. Check out the single and EP and turn that sh*t up!
Thanks to my endorsing companies: Thumper Custom Drums, Aquarian drumheads, Pro-Mark sticks, Paiste cymbals, and DW hardware.
For more on Jay Michaelis, go to www.jaymichaelis.com. And check out the making of the video for "Drive Me" at youtube.com/watch?v=XSolFPjrbCU.