DW/Collective Scholarship Winner Tommy "T.J.??? Carter Jr.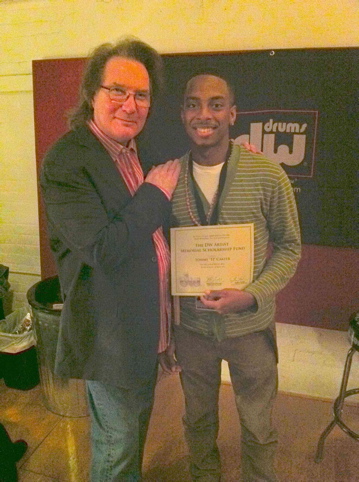 Hey, how's it going? My name is Tommy Carter, and I'm from New Haven, Connecticut. I attend the Drummer's Collective in New York City, and words cannot explain how happy I am to write a blog for Modern Drummer—I'm in shock. Just this opportunity in itself is a blessing to me. I think it's pretty cool how one day while reading Modern Drummer I saw an add for The Drummers Collective, and that's when I applied. So thanks to MD again, because if it weren't for me reading the magazine, I probably wouldn't be at the Collective studying now.
In this past year it feels like life has taken a turn for the best for me. This whole experience feels surreal—getting accepted into the Collective, and recently receiving a scholarship from DW drums. Six months ago I was studying at a private university, majoring in Sociology. This past year was very clear to me. I learned that sometimes you just have to follow your dream and let God take control. I would of never have thought I would be in New York studying music at one of the best schools in the world.
Besides getting rejected by numerous schools, I've had to deal with another struggle when it comes to following my dream. I've been hospitalized ten times in this past year alone because I have sickle-cell anemia, a disorder that affects your red blood cells. The only reason I mention my illness is because I want to inspire everyone that you can follow your dream even when you have huge obstacles in your way. I just want people to stay encouraged and follow their heart. I went from hospital visits to sociology class to rejection to The Drummers Collective and now MD! Thanks for reading. Advertisement
For more on the Collective visit www.thecollective.edu.