Dawn Richardson of Mental 99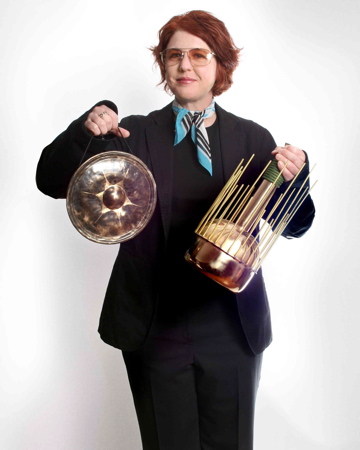 Hey there, everyone! I'm very excited to be included here on the MD Blog. I'm a long-time reader of Modern Drummer magazine and love most things that are related to drums and drumming.
I've been playing for quite a while now, and you may have heard my drumming with the rock band 4 Non Blondes. I was lucky enough to join the band right before making the album that included our hit "What's Up," way back in the 1990s. I've gone on to play with a lot of cool folks since, including recently touring Europe and the U.S. with Grammy-award winning singer-songwriter Tracy Chapman.
Drumming with Tracy was an amazing experience, and I'm also beyond happy to continue making music with my tour-mate, guitarist and sonic marvel Joe Gore (Tom Waits, PJ Harvey, the Eels). Mental 99 is a mere duo, but we can conjure vast panoramas of sound. While we use no prerecorded backing tracks, we do employ live looping, improvisation, and plenty of hoping with fingers crossed. The music can be eerie or funny, abrasive or beautiful, and sometimes all those things at once. I finally have a project that justifies all of those funky purchases we drummers make. You know, that cool thing you just had to buy, even though you weren't sure what you were going to do with it—yep, I get to use it with Mental 99!
I also teach drums in San Francisco and have written several instructional books. I'm very excited about my latest one, which has just been published, Kid's Rock Drum Method. There aren't too many drumming resources for small kids. This book is aimed at children ages four through eight, and I think that this will serve to introduce young students to drumming and help instructors and parents still searching for the optimal tool to teach the young beginner. This book balances hands-only work for dexterity with drumkit and limb coordination study for the young beginner and strives to make drumming fun, educational, and rewarding. The companion CD has many examples from the book to aid practice and home study. Kid's Rock Drum Method is now available through Mel Bay Publications, along with my other books, Building Blocks of Rock, Fill Workbook, Block Rockin' Beats, and Beginning Rock Drum Chart. Many titles are available as e-books as well at www.melbay.com. Advertisement
I'm also happy to have played drums with some other great artists this past year. I continue to play shows around the Bay Area with Van Morrison's daughter, singer/songwriter Shana Morrison. I spent part of this past summer with Bay Area punk-folkie Penelope Houston, recording at Fantasy studios in Berkeley. I played on her entire full-length album, and she's got some great songs on her soon-to-be-released collection, On Market Street, produced by Jeffrey Wood. I'm also on the current release from the engaging and talented Australian blues singer Toby Beard, Sleeptalk, and I'm featured on several tracks recorded by J.J. Wiesler at Decibel Studios in San Francisco in 2010.
Thanks for checking out the blog! Here's some more info if you want to dig deeper or say hello: www.dawnrichardson.com, www.mental99.com.