Brian Tichy: Bonzo Tribute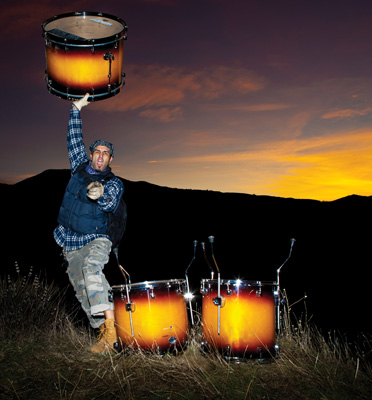 (June 2011 Issue)
On September 25, 2010, the thirtieth anniversary of the passing of John Bonham, Whitesnake's Brian Tichy assembled a cast of eighteen top-notch drummers at Hollywood's Key Club to pay tribute to the legendary Led Zeppelin drummer. According to Tichy, the uniqueness of the event, dubbed "The Groove Remains the Same," prompted a number of drummers to go the extra mile to be involved. "I had Jason Bonham and James Kottak fly in from Florida and South America the night of show," Brian says. "I had Vinny Appice drive up from San Diego after a clinic. And I had Kenny Aronoff get to rehearsal extra early before his recording session across town."
Since all of the drummers would be playing on the same kit—a Ludwig amber Vistalite in the classic Bonham configuration—Tichy assigned four drum techs the task of adjusting the kit to each player's comfort. "I got [backing band] the Moby Dicks to learn all eighteen drummers' fave Zep songs," Tichy says. "We had rehearsals stretched over two days, and I made sure the kit was ready to go. And Frankie Banali brought ten pounds of pasta down to rehearsal on the second night. Not only is Frankie a great drummer and a great bro, he's a fantastic cook!
"The tribute was very powerful," Tichy goes on, "and everybody left their ego at the door. Bringing these players together to pay tribute to rock's most influential drummer was the kind of experience I'd never had before. I was very proud to be a part of it. Some of us knew each other better than others, but after the tribute I think we all agree we made a lot of new friends. If you talk to any of us, you get the same positive reaction." To follow are quotes from many of the evening's participants. Advertisement
"It was such an honor to pay tribute to John Bonham, and I hail Brian Tichy for putting together such a spectacular event. What a great evening!"
Steven Adler (Adler's Appetite, Guns 'N Roses)
"This night was dedicated to the number-one rock drummer of all time, and there were more drummers on the bill than at most big festivals, with the common purpose of celebrating John Bonham's contribution to rock drumming."
Carmine Appice
"I wish everyone could have been at the tribute in honor of the greatest rock drummer ever—I will fight anyone who disputes this—thirty years later to the day when he sadly passed away. It's amazing that so many drummers were available. I was recording all day and made sure I could get out just to be a part of it. It's ridiculous when you start to listen to his groove, sounds, and parts on one song, let alone fifty. No one excelled in as many areas as John Bonham did with Zeppelin. They were into every style of music, and that's what we all witnessed and felt that night. No matter how you cut it, it's a course in drumming and music. It should be taught at Berklee, North Texas, and all the other serious schools where people learn how to play drums. There was another very important element that night: drummers uniting and celebrating what John Bonham did, and supporting each other. There was so much love and kindness, and it was really special. I'm so glad to have been a part of it."
Kenny Aronoff Advertisement
"Where else can you secure players of varying styles to pay homage to rock's greatest drummer? No egos, no issues, just drumming for the love and respect of Led Zeppelin's driving force, the mighty John Henry Bonham. Hats off to Brian Tichy for making this real!"
Frankie Banali (Quiet Riot/W.A.S.P.)
"The fact that John influenced so many drummers and made millions of Led Zep fans listen and love and respect their music is the truest form of love and honor. There are a lot of drummers that we all know who are legends and who were influential, but the elevator in rock does not go past the top floor—press the Bonham key to exit! I was honored, and nervous, of course, to be sharing the stage with all my great drumming brothers and a great band doing Zeppelin music, and letting people come out and see what we all looked like as kids in our bedrooms and garages, headphones on, playing to every Zep record."
Bobby Blotzer (Ratt)
"It's no secret that John Henry Bonham changed the landscape of rock drumming and left us way too soon. Being a part of this outing is the highlight of my drumming career. Brian called me several months before and said he wanted to do something for the thirty-year anniversary of John's passing. If I'm not mistaken, he wanted to do a backyard party at first. But after putting a few calls out, he got some of the biggest names in drums to come out. I was honored to share the stage with all those involved."
Jimmy D'Anda (BulletBoys, the Moby Dicks) Advertisement
"It was such a thrill to be part of the Bonham celebration. Brian Tichy did an excellent job of putting it all together. I nervously performed 'Nobody's Fault But Mine.' I thank everyone involved, and I can't wait to do it again!"
James Kottak (Scorpions)
"When I first started rehearsing with Paul McCartney in 2002, I was faced with a dilemma. How do I honor Ringo's musicality and the beauty of the records that we all know and love and still convey it to the back row of a 20,000-seat arena? My answer: John Henry Bonham! His ability to rock and swing in conjunction with the tone and size of his drums has been my greatest inspiration. When the idea to pay homage and celebrate him came up, I jumped at the opportunity. This Bonzo tribute was such a special and unique night."
Abe Laboriel Jr.
"Creator Brian Tichy, promoter Joe Sutton, and the chosen band of drumming brothers, clearly all of you have declared your feelings and communicated the influence and music of the great John Bonham and Led Zeppelin. I am humbled and honored to have been a part of this amazing tribute and life-changing evening, not only sharing family, personal thoughts, and past influential gifts with John's wife, Pat, along with their children, Jason and Zoe, but performing 'Since I've Been Loving You' on stage with his ever-talented sister, Deborah Bonham—good God, mama! Wow, what an amazing night of great drumming, positive energy, and true musical bliss. We all got our mojo back!"
Khurt Maier (Salty Dog) Advertisement
"It was simple—I dropped in on a great band, playing the songs that changed the direction of my playing. Long live JHB! Tichy had a vision, and it was realized with awesome precision. The work Brian put in from top to bottom inspired all of us. I love playing those songs!"
Stephen Perkins (Jane's Addiction)
"It is absolutely imperative, in this age where trillions of dollars have been spent on the ability to digitally create a deluge of amazing 'human feeling' drum tracks/loops/grooves, that we honor this one man as a true standalone hero whose raw abilities by far outshine any algorithm, machine, or program ever made, and probably always will. The amazing drummers who shared themselves on that special night, just up the street from the famed 'Riot House' in West Hollywood, have connected themselves forever not only with the very awesome Bonham family but also with John's immortal musical legacy. Singing beside all of these great drummers who came together as kindred spirits for this more than noble cause was my great honor."
Keith St. John (Montrose)
"The Groove Remains the Same was an awesome night! It was an amazing show to be a part of—a great representation of all of us drummers coming together in rhythmic brotherhood and respect for rock's greatest drummer, John Bonham."
Joe Travers (Zappa Plays Zappa) Advertisement
"Working for Paiste has allowed me to attend many great performances, like the Groove Remains the Same. But this Bonzo tribute was definitely unique from anything else I'd ever seen. The chance to watch and listen to each drummer's interpretation of John Bonham's drumming, with the Moby Dicks, is something I will remember forever."
Wayne Wilburn (Paiste director of artist relations, Moby Dicks drum tech)
"Bonzo had a huge impact on the drum world, and still does. Brian had no trouble bringing some of the biggest names to pay tribute to the late, great Mr. Bonham."
Simon Wright (AC/DC, Dio, UFO)
"John Henry Bonham rules! All eighteen drummers that played that night rule! The house band the Moby Dicks rules! The awesome techs in the drum pit rule! The unveiling of the Bonzo kit to a cheering packed house ruled! The Moby Dick ten-minute percussion jam ruled! KLOS and Joe Benson ruled for getting involved! The Bonzo Burger with the Four Sticks ruled! Theremins rule! The drummers that wanted to be there but were on tour rule! And we did a repeat performance twice in January during the NAMM convention. Maybe we'll get to do it again! Why? Cuz it ruled!" Brian Tichy
For more on Brian Tichy, check out the June 2011 issue of Modern Drummer magazine. For more on the John Bonham tribute show, click here: moderndrummer-com.go-vip.net.