Rich Redmond with Jason Aldean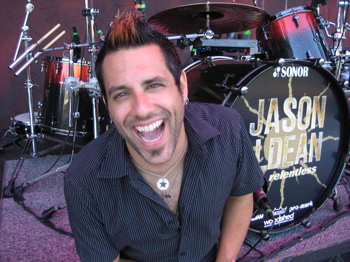 Hey there, everyone! It's been a while since I've checked in. I wanted to personally thank everyone who voted me "Best Country Drummer" in last year's Modern Drummer magazine Reader Poll. It is a real thrill and an honor to receive this award! A huge thanks to the fine staff of MD, a magazine I have read every copy of since 1980!
I survived the devastating "1,000 Year Flood" in Nashville. Countless musicians lost precious instruments. Damages were in the high millions—massive thanks to some great instrument insurance and my wonderful sponsors for pulling me through. Nashville's finest musicians pulled together to raise money for the Nashville community with the Nashville Rising concert at the Firestone Arena. I was proud to be part of it!
Since we last connected, Jason Aldean's previous record, Wide Open, achieved platinum status and produced three Number 1 singles. And we appeared on all the major TV shows including the 44th Annual CMA Awards (featuring a duet with Kelly Clarkson).
See it here: www.youtube.com/watch?v=Q4eS9Lj1dKc. Advertisement
I recorded all of the drums and percussion on Jason Aldean's fourth record, My Kind Of Party. First week sales were 193,00 units. This is the best debut for a male country artist in the last three years. The lead single, "My Kind Of Party," hit Number 1 on the charts, and the video is in heavy rotation on CMT and GAC. We also premiered the single on The Grand Old Opry Live on GAC for the Country Comes Home special. The second single, "Don't You Want To Stay," a duet with pop icon/American Idol Kelly Clarkson, has already been released to radio and is climbing fast. Jason and the band also recently appeared in People magazine.
I'm blessed to be continually working with my longtime rhythm-section-turned-production-team New Voice Entertainment. (See the link below.) We've been busy producing Lindsay Ell, Blake Wise, Ash Bowers, Krista Marie, and Thompson Square. Thompson Square's "Are You Gonna Kiss Me Or Not"? is in the Billboard Top 10 and climbing as we speak. Their full-length debut album was released in February. Watch for the new release from Amy Dalley in early 2011 as well.
I was also very excited to attend the one-year anniversary of the book Sticks N' Skins that I appear in with over 500 other drummers. The private event, which also honored the legendary Hal Blaine, was held at The Grammy Museum in Los Angeles this past November 21. Advertisement
On the clinic scene, I've been putting tons of effort into bringing my CRASH Course For Success motivational drum event to music stores, drum shops, colleges, and high schools across the country. Big thanks to all of my sponsors: Sonor, Sabian, Remo, Pro-Mark, Hansenfutz, Audio Technica, Gator/XL Protector, Rhythm Tech, Grover, Extreme Isolation Headphones, Woodshed Percussion, Danmar, and many others.
I am also now offering global drum lessons via Skype. All you need to get started is a Skype account, a PayPal account, high-speed Internet, and a web cam. All ages and levels of ability are welcome to inquire, although I find intermediate to advanced players benefiting most from this teaching method. You can contact me at lessons@richredmond.com.
As I write this, we're about to perform on The Ellen Show. It blows me away that I get to play the drums every day. What a fun and exciting way to make a living. We drummers have the ability to affect so many lives through our music, and I am proud to be part of the drum brotherhood! Many cheers! Advertisement
For more on Rich Redmond, go to www.richredmond.com, www.crashcourseforsuccess.com, or www.newvoiceentertainment.com. To watch the Thompson Square video, click here: www.youtube.com/watch?v=FDUOcHg5ijg.