Yes's Alan White: Revisited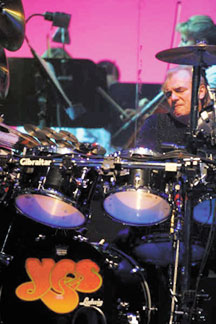 As Yes continues their world tour – featuring the return of keyboardist Rick Wakeman, signifying the reborn "classic" lineup – the band simply gets hotter and hotter. Drummer Alan White recently sat down with Modern Drummer, inaugurating the magazine's brand-newPlayback column, in which the world's greatest players reflect on their historic recordings.
by Adam Budofsky
You'll find Alan's fascinating reflections on Tales From Topographic Oceans, Going For The One, and other timeless Yes longplayers – as well as his seminal work on John Lennon's Imagine and Live Peace In Toronto, and George Harrison's All Things Must Pass – in the January 2003 issue of MD. Happily, though, we brought an extra cassette with us when we interviewed Yes's thirty-year veteran skinsman, and captured a bit more banter than we had room for in the print version.
MD: Since you were told about the Live Peace In Toronto concert late in the game, how did you prepare? Had you even played together with John at that point?
Alan: No, not at all. I was only twenty years old, so it was out of nowhere. All of a sudden I'm being whisked to Toronto. We actually rehearsed on the plane. I was just playing with a pair of drumsticks on the back of the airplane seat. It was like a whirlwind. I just thought, Well, this is what rock 'n' roll is all about. Now I reflect on it and think, "Wow, there's a little bit of history that was going down there." Advertisement
I was into playing my original stuff at the time. It was rock 'n' roll-based, but it had jazz influences. I was always interested in jazz. I used to go watch Roland Kirk and people like that. I'd go to clubs and see Roland play, and then go and see Jimi Hendrix play. That definitely turns your head around as far as what you can do musically. So I started trying to use melody on the drums as opposed to just being the timekeeper. Who's to say you can't sidestep and play with the guitars and leave the bass player to fend for himself? Of course, you play with the bass player most of the time, but there's no reason you can't go with the guy who is playing flute and make the drum pattern a thing in itself, and let the bass player hold the time. That's my philosophy, basically: I'm the timekeeper, but at the same time I'm melodic, and I can play harmony parts with anybody who is soloing.
MD: When watching "Ritual" from the recent Yes Symphonic Live DVD, it's apparent you don't take the easy road, when having a huge orchestra behind you would certainly rationalize that attitude.
Alan: I never take the easy road. I like a challenge. As much as people think that playing with Yes is regimented, it's not. We change it every night; I throw new things in all the time. That makes life interesting for us. Advertisement
MD: At what point did you join Yes?
Alan: I went to the rehearsals for Close To The Edge, in 1972. I remember it was a sewing shop or something like that in a really weird part of London, and they rehearsed in the basement. I went down with Eddie Offord, who was the producer. They were working on "Siberian Khatru," but Bill had left because they'd had some kind of confrontation. I had experience playing different time signatures, so I went and played it with them. So I played the song before they recorded it. Obviously the band must have later gotten together and agreed, "This guy can definitely do that job," because when Bill finally left the band, they came back to me.
MD: Were you friendly with each other before that?
Alan: I hadn't met Bill at that point. I think I was on the road with Joe Cocker in Europe, playing with Jim Keltner.
MD: Obviously it's a very idiosyncratic band, and Bill was the original drummer. Was there any point when you wondered if it was going to work out?
Alan: When I initially got asked to join the band I said, Look, I'll give you three months and you give me three months. Let's see if this works, because I'm not going to live my life in misery – and vice-versa. It's my thirtieth anniversary with the band, so I guess it's worked out.
You know what's great about playing with a band like this? It's always challenging, it's always demanding. Everybody's trying to achieve new things all the time. We have this built-in drive for creating new things all the time. That's what keeps the energy going. It's what keeps me alive. In fact, having Rick back in the band is creating a new energy, because people are actually hearing what we did in the '70s and up to the '80s. They are hearing that chemistry and magic. And the set is huge; it's a three-hour set. Advertisement
MD: After playing with orchestras on your last tour, has there been a shift back now that it's the smaller group again?
Alan: No, not really. For me it's a shift forward. The orchestra was great. It was a great experience to go through that, because everybody always wanted to see Yes with an orchestra. But now with Rick back – he's brilliant. Playing the orchestral parts on some of the new music, "Magnification," and stuff like that, he's just got it down. The band feels like a complete, solid unit right now. It's very powerful.
MD: How has the tour been going?
Alan: We were a little shaky at first. The first gig was great, though. We started in Seattle, which is my hometown. We started getting a few standing ovations, and now we get a lot of standing ovations. It's like, "Well, we made it through" [laughs], because there are a lot of notes to play.
MD: The music must be inside you after a while.
Alan: Yeah, it is to an extent, but to coordinate the whole thing – Chris keeps looking at me, saying, "You're the guy who controls all of this."
MD: The Rhino box set In A Word, released earlier this year, must have been interesting to work on.
Alan: Rhino put a program together and presented it to us, then we added some stuff like the Paris tapes. They've been bootlegged, but Rhino did it properly and re-EQ'd it so it sounds good. It's a good package – all their packaging is fantastic. I think their plan is to do a three-CD set of live stuff next year. Advertisement
MD: Is it unusual going back and listening to all this stuff from the past?
Alan: I've got most of the tapes anyway. If anybody wants to find something that we did in rehearsals, they come to me because I've got bags and bags of cassettes. It takes me like two days to go through all these cassettes, but I'll eventually find the piece they want. I keep everything.
MD: It seems that over the years [singer] Jon Anderson has taken a more active role onstage percussively. It adds a lot to the show.
Alan: Except he breaks all the things I give him. [laughs] He doesn't use regular sticks, he uses pieces of pipe and stuff like that. I gave him a gong, which cost a fortune. He absolutely destroyed this thing. It has a huge dent in it. And he still thinks it sounds good!
MD: Good thing he's not a bigger guy.
Alan: Yeah. I keep giving him cymbals and he keeps breaking them. I play with relatively small jazz drumsticks. I know guys who play with tree trunks, but I just can't handle that. You can get the same effect by just turning up the volume. If you hit it hard with bigger sticks you're going to break things. Advertisement
MD: At this point, Jon is an integral part of the percussive thing that's going on onstage.
Alan: Yeah, he gets into some nice stuff. I think he finds it like a home away from home onstage. He kind of goes back to his base during a lot of instrumental passages. He likes to have a "station" instead of just standing in the front.
MD: "Ritual" really rocked during the orchestral shows. Chris Squire and Jon were playing drums, and the orchestra's percussionist would be playing shakers; even the keyboard player was smacking stuff.
Alan: Oh yeah, it was great. That whole section is amazing. When we did it in the studio it was just like, "Okay, it's time for Alan to go nuts!"