NYC Session Drummer Dylan Wissing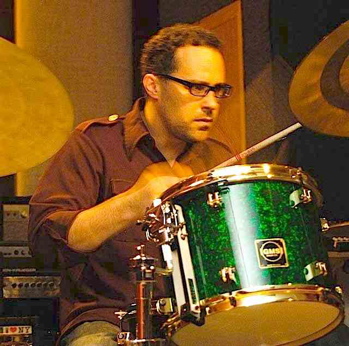 Greetings, fellow Modern Drummers! There's so much going on in the studio, on the road, and at home. Here are my latest updates.
Kanye West "Power" remix, featuring Jay-Z and Swizz Beatz: For several years now I've been the session drummer for Grammy-winning and platinum-earning producer/mix engineer Ken Lewis (Kanye West, John Legend, Beastie Boys, many more). Through working with Ken I've played on many indie projects, one major label release so far ("Wild West" by Novel on Rowdy/Capitol), and have come agonizingly close to appearing on two Jay-Z and three Kanye West projects. All would be going along great: The engineer, artist, producer, and label all loved the track, it was as good as printed…then the sample we had laboriously recreated would clear at the very last minute and our work wouldn't be needed. Or, the entire project would be scrapped. Or, the artist couldn't pull a second verse together in time to make the mastering date and the track would hit the cutting room floor.  So frustrating for a hard-working session drummer.
But now I'm extremely pleased to announce that I am playing drums on Kanye West's "Power" remix, featuring Jay-Z and Swizz Beatz! That's me playing the fills on the breakdowns at 0:35 and 1:28. (I believe the rest of the track has programmed drums.) Drums were tracked in my own Triple Colossal Studios in Hoboken, New Jersey. I actually cut drums for the single version of "Power" as well, recreating Michael Giles' part on King Crimson's "21st Century Schizoid Man," but this was another example of the original sample clearing at the last possible minute. So, you win some, you lose some. Hey, at least the check cleared!

Indie studio drummer: After many years of session work for others, hauling my gear from studio to studio or dealing with beaten-up, broken-down house kits and random acoustic environments, last year I opened Indie Studio Drummer at my Triple Colossal Studios. I'm providing drum tracks online, with dozens of clients in less than a year in business (including Ken Lewis and Kanye West). I have a huge collection of modern and vintage sets, snares, cymbals, and percussion, plus world-class mics, preamps, and converters, all prepped and ready to go in a great-sounding room. Finished tracks and groove samples are listed below, along with news, reviews, credits, links, and free drum loops. (See link below.) Several complete albums I've worked on are released, and I will of course update you as I have information. In addition to tracking drums for musical artists, I've also gotten involved in a project with the head trainer of perhaps the world's foremost chain of kickboxing gyms. I'm writing, performing, recording, and producing a series of kickboxing training programs along with Mike Andreula of CKOTrainer.com, which has been quite a change from my usual fare. It's an amazing workout trying to keep up with what we're recording!
Live performances: I'm playing with a wide array of artists in several different genres throughout the U.S. and Europe. I toured Europe for five weeks this past summer with Young Love recording artists Quitzow (analog electronic pop) and Setting Sun (indie folk), from one end of the continent to the other. I did several East Coast tours with blues/soul artist Kirsten Thien. I also recorded Kirsten's upcoming release, Delicious, sharing drum duties with the legendary Steve Holley (Paul McCartney, Elton John). And I have been writing and performing with Memphis rocker Foster McGinty. The best description of his material I've heard yet is "Sly & the Family Stone meets Cream." The band is in the studio finishing a full-length album, quite possibly with a Grammy-winning producer. (Details as they become available.) Advertisement
I've also recently begun playing with singer/songwriter Galia Arad. She's building quite a following in NYC, and I'm recreating parts recorded by Pete Thomas and Elvis Costello's band from her debut record. The guitarist in Galia's band is Grammy-winning producer Steve Addabbo (Shawn Colvin, Suzanne Vega). I continue to perform with the very twisted Northern Soul artists Comic Tales of Tragic Heartbreak, fronted by NYC's legendary Robert Whaley (formerly of the Niagaras, who I played with for several years as well). I'm also doing shows with British singer/songwriter Cordelia Stevens, roots rockers Sputnik Sweetheart, and with funky folk rocker Michelle Citrin, who is fast becoming a rock star in Israel. For gear I've been using GMS drums, Sabian cymbals, Aquarian heads, Pro-Mark sticks, and XL Protechtor cases live and in the studio since the mid '90s, and I've recently become an enthusiastic user of the KickPort as well.
Maxwell Benjamin Wissing: And, finally and most importantly, on August 22, 2010, my wife, Dana, gave birth to our first child, Maxwell Benjamin Wissing! Mom and baby are both doing great. I'm going to have to track a LOT of drums to keep this kid fed! As a side note, literally the instant I pulled out my phone in the delivery room to tell my family of Maxwell's birth, I received a text from producer Ken Lewis saying that we had another track to cut for Kanye West's upcoming release that had to be done immediately, if not sooner. No final word yet on whether the track has made the record, but it certainly led to some interesting (and especially sleepless) first few nights of parenthood!
So that wraps up most of the events to date. It's been an amazing 2010 and start of 2011 both professionally and personally, with a lot of exciting projects on the horizon (not the least of which are an endless series of diaper changes). Thanks for reading! Advertisement
For more on Dylan Wissing, go to www.indiestudiodrummer.com or www.dylanwissing.net.