Chris Coleman: Amazing Journey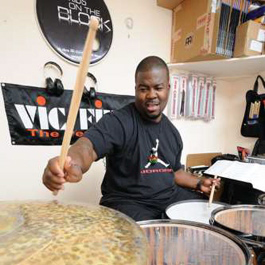 (January 2011 Issue)
by Stephen Styles
His is one of the most closely observed careers in R&B, fusion, gospel, and pop drumming, with acts like Israel Houghton & New Breed, Chaka Khan, Christina Aguilera, Babyface, Patti LaBelle, Randy Brecker, and New Kids On The Block peppering his résumé. We detailed Coleman's amazing playing in the January 2011 issue of MD; here Chris recalls his upbringing and gives props to those who have helped him achieve his goals.
MD: It seems so many of the working drummers on the pop and R&B scene got their start in church playing gospel music. What do you think it is about that scene that breeds such great musicians?
Chris: We cover every genre of music in gospel. The beat may be a blues shuffle, a four-on-the-floor dance beat, a straight-8th rock thing, or even a waltz.
Church drummers also get real-life performance experience from the start. In all the weekly services, you're playing in front of a lot of people who are really into the music. There's a lot of pressure to make the music groove and feel good. There are always other drummers waiting around who are anxious for their opportunity to play, so if you want to stay on the drums, you have to lay that fire! [laughs] In church, if you don't have a really good feel, you get bumped. You have to play with a lot of intensity from the first note of the song, whether it's slow or fast. The church is one of the best training grounds around for stage experience.
MD: Did you play much in school when you were growing up?
Chris: I started out playing saxophone and trumpet in the sixth-grade band and also doing skits and plays with the drama club. Playing horns was my first introduction to sheet music, but I didn't really master it back then. I also played snare drum in concert band. When the high school jazz band teacher found out I could play drumset, he drafted me. I played for the band from sixth grade throughout high school. Advertisement
MD: Playing with the high school band in sixth grade, you must have already been pretty sharp on the kit. Were you taking lessons? How did you develop into such an advanced player at such an early age?
Chris: I wasn't taking lessons, but I used to practice every day, all day. I didn't have much technical knowledge—I just loved to play.
When I was young, I spent my summers in Memphis with my grandparents and hung around the local music stores. The summer before seventh grade, I went into one of the stores and heard some music on the CD player that I'd never heard before. The manager, Jonathan, gave me a copy of the CD. It was a promotional disc called People Who Speak With Their Hands. It had tracks with Steve Smith, Tony Williams, and several other drummers. The track that jumped out to me that day was "7th Ave. South" by Dave Weckl. Up to that point, I'd never heard fusion or anything even close to it. I wasn't aware that people were playing music where drums were the main feature like that. But once I had that CD, I listened to it every day for a long, long time and was constantly on my drums shedding to it. I was already comfortable on the kit, but my imagination opened up a lot from playing along to those tunes. That probably has a lot to do with how I developed so early.
MD: Were you trying to learn those drum parts note for note, or was it more about playing your own thing over the tracks?
Chris: In the beginning it wasn't as much about playing lick for lick what I was hearing. I never sat there and kept rewinding a certain part of the tune to figure out what the cats on there were doing. It was more of an inspiration thing. The stuff I heard Dave Weckl, Dennis Chambers, and Vinnie Colaiuta doing opened my mind to all these other possibilities on the drums. It was on and crackin' from there. Advertisement
MD: What was the turning point for you from shedding at home and playing in church to aspiring to be a professional player?
Chris: There wasn't really one specific turning point. It was more of a gradual process where little things kept happening that moved me toward it. When I was younger, there was this annual weeklong gospel workshop in my hometown with Edwin Hawkins, and we always participated. Each year the workshop would end with a concert. As a highlight, one year they did a live recording session. Edwin brought in Joel Smith to play drums, which was very exciting for me.
One day I was sitting in rehearsal, watching everything, and Joel had stepped away for a few minutes. Edwin was ready to start the band up again, but Joel wasn't back yet. Edwin knew I could play drums, so he told me to jump on the kit until Joel got back. So now I'm super-excited because I'm in rehearsal playing drums behind the great Edwin Hawkins. When Joel got back, instead of kicking me off the drums, he picked up the bass guitar and started playing the tune with us. Shocked the mess out of me! [laughs] It was great, and that's when I decided I wanted to be a bass player.
The next year, Edwin allowed me to play for the whole workshop and the concert at the end of the week. He told my parents afterwards, "Your son can really play the drums; just get that boy a metronome!" So they bought me a metronome, which made a big difference in my playing. From the time I was fifteen to nineteen, things were a blur. I'd started playing in clubs, for lots of different groups and singers. Advertisement
MD: What did you do after high school?
Chris: I was hustling! For that first year or so, I was playing drums, cutting hair, working as a manager at a gas station, and attending community college for piano. After graduation, I went to Drummers Collective in New York. That's where I developed my sight-reading skills. My father always encouraged me to "master my craft," so getting that down was really important to me. There was a lot of music I had to learn at the Collective that proved to be challenging. After I finished at the Collective, I briefly moved back home before moving to Cleveland for a year to do ministry work. In Cleveland I worked at the county jail as a corrections officer and also worked at Continental Airlines, cleaning planes, while assisting my pastor with the church. From Cleveland, I moved to Atlanta to study bass guitar at Atlanta Institute Of Music. While studying bass, I also ended up on the AIM faculty, teaching drums.
MD: What did sight-reading and teaching do for your playing?
Chris: Sight-reading helped me structure the madness and the bliss of my playing. I had control on the drums, but my thinking was wild. Reading gave me more vocabulary, knowledge, and discipline. It also gave me the ability to manipulate music in ways I wasn't hip to before. Teaching drums gave me a stronger command of the instrument. Students always present a challenge because they might come in with a question or idea that they can't execute, and it's your job to help them facilitate that. It also brought out more of a leadership aspect to my personality, which translated to my playing.
MD: What made you enter the Guitar Center Drum-Off?
Chris: Honestly, I entered to try to appease some of my friends who "forced" me to compete. [laughs] I wasn't really interested in it at first. But that was a really good experience, and it was an honor to win. There were a lot of opportunities I could have taken advantage of after winning the Drum-Off, but I didn't fully understand how to maximize them at the time. Advertisement
MD: What was your first major gig after winning the Drum-Off, and how did you get it?
Chris: It was with gospel artist Israel Houghton & New Breed. In Atlanta I was playing at a church called World Changers with Pastor Creflo Dollar. Pastor Dollar hosts an annual conference for pastors and church leaders in Florida, and the person in charge of the music was a guy named Aaron Lindsey. Aaron is an exceptional musician and producer and works very closely with Israel & New Breed. I was selected to play for the conference, and Aaron had invited Israel to come sing. At the time I hadn't really heard of Israel and didn't know he had a successful group. You know how sometimes you can tell a person is enjoying all of the music, but they're also checking you out on the drums? [laughs] It was kind of like that. The last day of the conference, Aaron asked me to come walk outside with him and Israel. We struck up a conversation, and it was really cool. Ultimately they told me that they liked my playing and my attitude, and offered me the gig.
MD: What was that first experience like?
Chris: It was great! Around the fifth or sixth show, I realized how serious it was. We were performing at a retreat in Hawaii. Everything was super-professional, the layout was beautiful, and something in me clicked to say, "This is the real deal—you better step up your game." It was my first real experience with being on the road, and I learned a lot of valuable lessons being out there. I miss them, because they're all like family to me.
MD: What were some of those early lessons?
Chris: I learned to be more selfless. You're living with a group of people that you haven't known for very long, and you have to get along. You have to be transparent. In my opinion, the key to being successful on the road is practicing the golden rule: You have to treat others the way you want to be treated, which means what you do, what you say, and how you do and say it. I also learned that you have to be consistent. No one is perfect, but whoever you are when you're on the stage in front of people needs to be the same person you are when you're off the stage and away from the lights. If you're not, there's bound to be trouble. [laughs] You have to be on point musically and be a team player. Bottom line, you should strive to be a cool person. Advertisement
MD: Since playing with Israel & New Breed, you've gone on to play with many other artists in gospel and other genres. How did you get some of the other gigs, like with Chaka Khan?
Chris: I'd met Andrew Gouche, Chaka's musical director, while I was out with Israel. He subbed with us a couple times when Terrance Palmer couldn't do a couple of dates. When Chaka was looking for a new drummer, Andrew hit me up. I was excited about it, but I was already committed to working with Rachelle Ferrell. I told him I'd do the gig, but I also kept him abreast of my schedule with Rachelle. There was never any conflict with both of them having a gig on the same date, except once. The situation still worked out, because they were both booked for the same festival in Detroit—Rachelle one night and Chaka the next night. It was great!
MD: Were you living in L.A. at that time, or were you still based in Atlanta?
Chris: At this point I'd moved to Los Angeles. I always wanted to move out here, but I wasn't sure about timing. I prayed about it and sought advice. I'd met Teddy Campbell and Gorden Campbell at the Drum-Off championship in '01—I've always admired both of them—and I asked them about moving to L.A. They gave me some really practical advice. They both said to wait until I already had a gig and was consistently working. That was some of the best advice they could have given me, and I heeded it. It's hard work to break through in L.A. Cats are out here trying to feed their families and take care of their responsibilities. Showing up and not having a gig is okay, but it helps you to be taken more seriously when you have a gig already. That gives people some sort of reference for your ability to hold down a gig and be responsible. It's easier for MDs, managers, producers, etc., to consider someone for a new opportunity if they're already displaying a good work ethic.