Richard Bravo — Arranger/Performer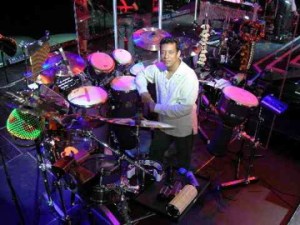 Hello, Modern Drummer readers! My name is Richard Bravo, and I'd to let you know about the latest projects I have been blessed to work on.
I was born in Venezuela, and after spending my early years in Orlando, Florida, I moved down to Miami, where I currently live. Due to persistence and training, I have been able to record with many of the leading artists that come into South Florida. I attribute my success to my educational foundation, which began after I graduated high school. While living in Orlando, I enrolled at the distinguished Full Sail Academy and graduated with an associate's degree in engineering. This training has been invaluable in my career, since a large part of my income comes from my work in my home studio, which I dubbed Cuero Productions.
I've been blessed to work as a percussionist/drummer, so every day has me wearing a different hat. I truly believe in giving back to the musical community, and I do so by teaching a weekly course at the University Of Miami School Of Music, Afro-Caribbean World Rhythms. It is my hope and desire that my achievements in world percussion will inspire future generations of musicians to achieve their goal.
Here are some links of my recent projects that I think you will all enjoy. The first clip is Waldo Madera and myself during the filming of Ricky Martin's MTV Unplugged. I arranged all of the drum and percussion from this show. www.youtube.com/watch?v=DqoHnsWanIQ. Advertisement
The second clip is Waldo and I performing with Juanes at the World Cup Opening Festivities. www.youtube.com/watch?v=Aznkv8VdxH8.
The third clip is from the recently released Herbie Hancock Duets CD. I think you will recognize who is on drums!
www.youtube.com/watch?v=v5oFnlweR_4&feature=player_embedded.
Hope to see you on the road!