Brandon Mullen of The New Stylistics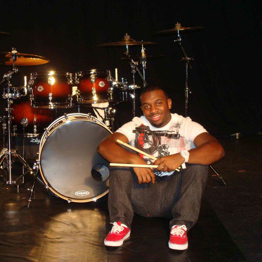 Hi, everyone! My name is Brandon "D'Erick Anthony" Mullen, and I was born in Trenton, New Jersey, in May of 1985. God has blessed me with this gift of music since the age of four.
Allow me to tell you about myself. Early in school I was able to participate in the school band and the gospel choir. At the age of eleven I had the opportunity to play my first recording on percussion with artist Anthony Booker and M.O.P.P. At the age of thirteen I was able to play my second recording on drums with the Bishop Choir.
After graduating high school I continued my education at Valley Forge Christian College, studying music performance, and I received my B.A. degree in May of 2008. While in college I had the opportunity to tour with college team group Chosen. Upon graduating college, I landed a position as a drummer/music director for Christian/gospel recording artist Michelle Bonilla. I've also been lucky to work with great artists such as the Bishops Choir, Dorinda Clarke-Cole, Ricky Dillard, Vertical Current, PJ Morton, Tony Moore, Treena Ferebee, Antoinette Costa, Benita Farmer and Journey, Dezzie, Jeff Murrell, AlyCat, Jessy Kyle, Vetra Votii, Lucky Friday, U City, Duane C. Shipley and Kingdom, Darwin Hobbs, Thomas Clay, Ahmad Sanon Band, and Dan Macaulay.
Currently I'm touring with legendary soul singer and Hall of Fame inductee Russell Thompkins and the New Stylistics! This soul group recently played five weeks in Las Vegas, with more cities to come. Trumpet player Henri McMillian introduced me to Stylistics music director Kenny Thompson. I was offered the job opportunity after a short audition with the band that helped jump-start my career at age twenty-five. This style of music requires me to keep good timing, play a solid pocket, control the dynamics of the songs, be very tasteful, and sound authentic and true to form. There's nothing like looking around and seeing your bandmates, the artist, and the crowd dancing and grooving to the rhythm, which lets you know you're doing your job the right way! Advertisement
Some drumming influences who helped me develop my style are my good friend Gerald Heyward, Terry Baker, Teddy Campbell, Lil John Roberts, Brian Frasier-Moore, and Calvin Rodgers. I'd like to give props to influences in my age category that keep me motivated, like Brian E. Williams, Leonard "Pudge" Tribbett, Rashid Williams, Darrell Robinson, and John Lawson, lil' bros Marlon Lewis, Brandon, and Tony Sykes, Jonathan Holman Jr., Tre' Lambert, Maurice "Lil Mo" Fonville, and Joshua Luciano, all of whom I'm proud of—along with many other musician friends. My current setup on the road is a PDP Platinum series (10″ and 12″ toms, 16″ floor tom, 22″ kick drum, 14″ snare), Zildjian A Custom cymbals (16″, 17″, 18″ crashes, 14″ hi-hats, 20″ ride), DW hardware and 9000 series pedal, Remo heads, Sound Percussion throne, and Vater sticks (3A Fatback wood-tip, Fusion wood-tip).
I would like to thank God for blessing and trusting me with the gift of music, which I do not take for granted, as well as my parents, Mr. and Mrs. Eric Mullen, my sister T'Ericka Mullen, my grandparents Mr. and Mrs. Jerry Williams, and Mr. Augustus Ruffis and the late Gloria Ruffis for all their love, support, and prayers.
Some of my current projects are Michelle Bonilla's CD In Spite Of Me, the Bishops Choir's Trust Him, pop/rock band Lucky Friday's EP, and Vertical Current's EP, coming soon!
For more on Brandon Mullen, go to www.facebook.com/brandon.mullen2.