Drummers, Feature Stories
Daniel Glass: Living History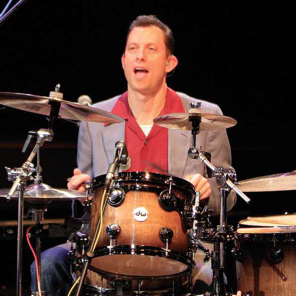 Daniel Glass is an award-winning drummer, author, historian, and educator best known for helping to usher in the resurgence of swing with renowned L.A. group Royal Crown Revue.
RCR held headlining spots on the Van's Warped Tour in '97 and '99 and have supported everyone from Bette Midler to KISS. In 2005, the band headlined the Tantsy festival in Moscow and in 2010 they played a U.S. State Department-sponsored tour of Egypt. They also regularly embark upon the festival circuit in Europe, Australia, and Japan, and their music has been featured in films and television shows such as The Mask, Gene Simmons Family Jewels, and Late Night With Conan O'Brien.
Glass has also recorded with a variety of musicians outside of RCR, including Bette Midler, Gene Simmons, Robert Gordon, and the Industrial Jazz Group. In 2002 he released his debut album as a leader with The Daniel Glass Trio's Something Colorful. That year the trio toured Europe and was featured at the Havana International Jazz Festival in Cuba. In addition to his drumming duties, Glass has produced albums including Something Colorful, RCR's Greetings From Hollywood (2004), and the Rhythm Club All Stars' Introducing The Rhythm Club All Stars (2008).
Glass has also published a number of books, including the well-received Commandments Of Early Rhythm And Blues Drumming, and is a member of the 2010 Modern Drummer Pro Panel. Since 2003, he has performed clinics that teach the history and tradition of the drums, focusing on the relationship between drumming and early American musical styles such as rhythm and blues, swing, and rockabilly. He recently brought his clinic to the 2010 Modern Drummer Festival.