Kenny Aronoff: In Constant Demand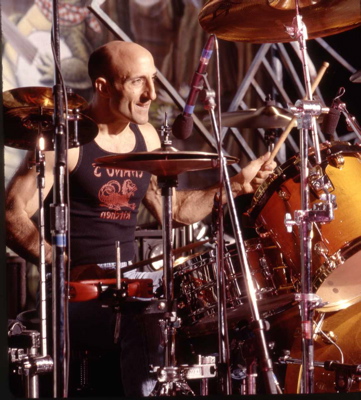 Kenny Aronoff is one of the world's busiest session and touring drummers, working with a hugely impressive list of major artists including John Fogerty, Smashing Pumpkins, Melissa Etheridge, Rod Stewart, Avril Lavigne, Willie Nelson, and the gig he first came to most drummers' attention on, John Mellencamp.
Kenny joined his first band at age ten. By sixteen, he decided to focus on classical music and began studying with members of the Boston Symphony Orchestra, including renowned timpanist Vic Firth. Aronoff went on to study at the University of Massachusetts and Indiana University, where he was awarded the school's Performer's Certificate.
After graduating from Indiana University in 1976, Aronoff was offered several timpani opportunities. Instead, the drummer decided to continue his drumset studies in Boston and New York City, and began to concentrate on jazz and fusion music. In 1977 he returned to Indiana and toured the Midwest with a popular local band for several years. Advertisement
In 1980, the drummer's big break occurred when he joined the John Mellencamp Band. Over the next seventeen years, Aronoff would record ten albums and tour the world with Mellencamp, providing the backbeat to the musician's string of hit records of the '80s and '90s.
In the mid-'80s, the drummer also began to cement a successful career as a studio and touring musician, an endeavor that continues to thrive today. Aronoff is also a well-respected educator, releasing several instructional books and DVDs as well as holding an associate professor of percussion position at Indiana University from 1993 to 1997. His other accolades include topping the Modern rummer Readers Poll in the Pop/Rock and Studio categories numerous times.