Ben Tileston of TAB The Band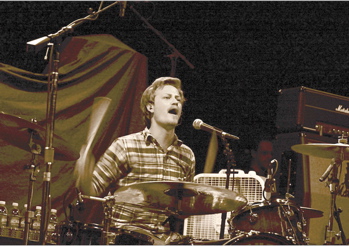 Hey, Modern Drummers, Ben Tileston here. For those that don't know me (probably a large number of you), I play drums in TAB The Band and recently worked on Aerosmith guitarist Joe Perry's latest solo album, Have Guitar, Will Travel. I've been playing officially since I was twelve, but my real first start on drums was when I used to watch my father's marching band. (My dad is a music teacher.) I would watch the drum line and all I could think of was how cool it would be to be the drummer—you're the beat, the backbone, the glue that keeps the rest of the music together. Everyone else is depending on you to keep time, get the right feel, and complement the song while keeping everything moving forward.
I took piano lessons for a couple of years before I started drum lessons with my school music program in fifth grade. My teacher was Ed Sorrentino, a mentor and great friend, not to mention a phenomenal drummer. In high school I played in the jazz band and the wind ensemble, played snare and quads in the marching band, and performed with BYSO, a youth orchestra in Boston. I developed a liking for classical music and went to Boston University to study orchestral percussion with Tim Genis. I focused mainly on timpani while at BU. But while there I never could tame the urge to get behind a drumset and just rock out or jam for a little while. I graduated with a bachelor's in percussion performance, and now I'm playing in a rock band.
TAB The Band is a hard-hitting rock band that plays exactly that—hard-hitting rock 'n' roll. We never set out to revamp the rock scene or try to bring an earlier era of music back to life; we just play music that we want to hear. We started playing about three years ago and have been steadily gaining some success. Our first gig was at a little club called The Middle East (upstairs) in Cambridge, Massachusetts, where we played five original tunes and seven covers. Now we're opening for bands like Stone Temple Pilots, Modest Mouse, Slash, and Dinosaur Jr. Crazy! Advertisement
One principle of drumming that I have always stuck by is, Keep it simple, it's not about you. It's about the song, and when you get selfish and play for yourself rather than for the song, it takes away from the rest of the music, and you never want to get in the way of what's important. You can play your fast fills, but only if it doesn't detract from what is going on in the melody and harmony. Always be of the mindset that you want to complement the main focus.

For more on Ben Tileston and TAB The Band, go to www.tabtheband.com.