Stewart Copeland: Exotic Rocking And Ambitious Orchestrations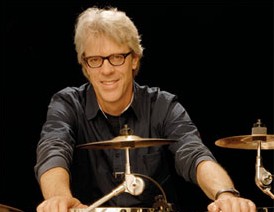 When British rockers the Police launched onto the American airwaves in 1979, by way of the quirky new wave hit "Roxanne," the rock drumming community was introduced to one of its most innovative, controversial, and influential figures of all time. Combining a no-holds-barred punk-rock attitude, an offbeat reggae-inspired time feel, and a penchant for tight cutting tones, quick hi-hat flourishes, and small splashy cymbals, Stewart Copeland's approach to the drumset was a breath of fresh air in an era when self-indulgent arena rock dominated the scene.
During his tenure with the Police, Copeland sold millions of records and earned several Grammy awards in response to their fresh yet radio-friendly hits. Chart-toppers "Message In A Bottle," "Don't Stand So Close To Me," "Every Breath You Take," "Wrapped Around Your Finger," and "King Of Pain" all prominently feature Copeland's inventive drumming. After the Police disbanded in 1984 following a world tour supporting the band's final album, Synchronicity, Stewart's career took an interesting left turn into the art of composition. His most successful compositional projects included soundtracks to Wall Street, Highlander, and Rumble Fish, opera and ballets King Lear and Casque Of Amontillado, and TV shows The Equalizer, Desperate Housewives, and Babylon 5.
When he wasn't busy putting pen to paper, Stewart kept himself active behind the kit, either with his own projects or as a session drummer. The first of those was his 1985 solo album, The Rhythmatist. That album, which is a revealing glimpse into the drummer's unique world/fusion mindset, was put together after Copeland traveled extensively throughout Africa. It was around this time that Stewart also lent his signature hi-hat touch to Peter Gabriel's mega-hit record So. Advertisement
In 1988, Copeland teamed up with famed jazz/fusion bassist Stanley Clarke and singer/songwriter Deborah Holland in Animal Logic for a pair of interesting pop-rock releases. In 2001, Copeland reclaimed his iconic rock-drummer status when he joined the jam-band supergroup Oysterhead with Primus bassist/singer Les Claypool and Phish guitarist Trey Anastasio. In 2006, Stewart earned a Grammy nomination for his live percussion/winds/drumset extravaganza Orchestralli, and he brought his Italian rock band Gizmo to the States for their debut performance at the Modern Drummer Festival Weekend. Longtime Copeland fans were given a special treat when the Police reunited in 2007 for a widely successful arena tour.
Since then, Copeland has continued working in the orchestral field, with works such as "Celeste," which was introduced during An Evening With Stewart Copeland at the Savannah Music Festival, and the theater piece Ben-Hur. In 2009 Copeland's memoir Strange Things Happen: A Life With The Police, Polo, And Pygmies was published.