September 2010 Issue of <em>Modern Drummer</em> Featuring Phish's Jon Fishman
On the Cover
Phish's JON FISHMAN

When Phish called it quits in 2004, he headed up to the farm and traded his sticks for a shovel. But the drums called him back, and a self-devised rudimental exercise fired him up for a band reunion that's led to some of Phish's hottest moments to date.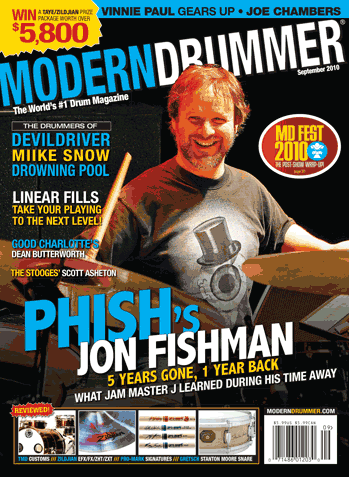 FEATURING
DEAN BUTTERWORTH
His résumé reads like a list of realized opportunities and dream gigs. As he prepares to tour behind Good Charlotte's latest blockbuster, the popular L.A. drummer sheds some light on the unique demands of drumming in today's big leagues.
UPDATE
• Drowning Pool's MIKE LUCE
• Jazz Master JOE CHAMBERS
IN THE STUDIO
Session Great BRIAN MacLEOD
PORTRAITS
DevilDriver's JOHN BOECKLIN
Miike Snow's NISSE TORNQVIST
WHAT DO YOU KNOW ABOUT…?
The Stooges' SCOTT ASHETON
EDUCATION
Strictly Technique
Six-Stroke Plus, Reinventing A Standard Rudiment
Jazz Drummer's Workshop
Pulse And Meter, Part 2: Odd Made Even/Even Made Odd
Rock 'N' Jazz Clinic
Linear Fills, Part 1: 16th-Note Patterns
EQUIPMENT
PRODUCT CLOSE-UP
• TMD Red Mahogany Kit
• Zildjian EFX, FX, ZHT, And ZXT Additions
• Pro-Mark New Autograph Collection Sticks
• Snare Drum Of The Month: Gretsch Stanton Moore Signature Advertisement
GEARING UP
Hellyeah's Vinnie Paul
The Whigs' Julian Dorio
Collector's Corner
Slingerland Broadcaster Snare Precursor To A Classic
New and Notable
DEPARTMENTS
AN EDITOR'S OVERVIEW
Celebrating 20 Festivals by Billy Amendola
Readers' Platform
Ask a Pro Union Radio's John Macaluso Hi-Hat Double Strokes
It's Questionable
• Pearl Masters Series Mystery
• Carpal Tunnel Recovery
Showcase Featuring Drum Market
Critique
Backbeats
• L.A.'s Baked Potato Celebrates Its 40th Anniversary
In Memoriam Robert Zildjian
Kit of the Month Good Times, Odd Times
and more!