Jay Weinberg of Madball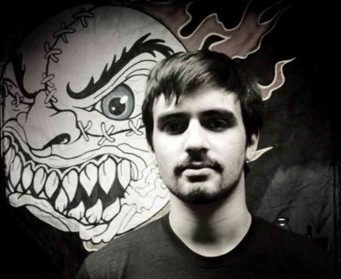 Hey, fellow Modern Drummer readers! My name is Jay Weinberg, and I'm on a three-week European tour with the New York hardcore band Madball. With this run, we've begun the touring cycle in support of our new record, Empire, which will be released on October 12. In fact, you can check out a video documenting the recording process of the drums for the album at Modern Drummer's website (Shameless plug, I know, sorry.)
I joined Madball in mid-January, very shortly after the tour I had done with Bruce Springsteen & the E St. Band ended. We began touring two weeks after my audition, with the 2010 "Rebellion Tour" in Europe, as well as a handful of shows in the U.S. while we were home writing the new record. Empire was finished in early July, and we started this touring cycle about three weeks ago. After we get home this week, we'll be doing a two-week Canadian tour, shortly followed by a three-week European trek with our NYHC brethren Sick Of It All. By that time, the record will be out, and we'll be heading to even more foreign territories!
This tour has been great so far. Waking up in a different city, with new things to see and do every day, is one of my favorite things—and I sure get a lot of that out here! The shows have been excellent, and the crowds have been responding very well to the new material we've been playing. Most days on this tour have had a consistent schedule: Wake up (anywhere between 10 a.m. and 3 p.m.), find the backstage, find out what the wireless Internet password is, have "breakfast" (yes, cereal at 5 p.m. counts as breakfast), do soundcheck, and then walk around town! Advertisement
The sightseeing on this run has been top-notch. Many of the cities we've been playing have had amazing churches, memorial sites, and other sites where aesthetic beauty abounds. We had one day off on this tour, between a show in the Czech Republic and a show in Slovakia. We took the opportunity to stop in Poland to go to the concentration camp at Auschwitz—a very heavy and emotional experience to say the least—but a piece of history nonetheless; we were all really glad to have the chance to visit the site. I have no doubt everyone was seriously reflecting on it for the rest of the day that we spent in Krakow, Poland. The area in which we spent time was extremely gorgeous, by the way—one of my new favorite cities.
This touring cycle we've begun is great, because it's chock full of great shows, with barely any days off. We're able to make these trips worth it by playing almost every day for three weeks straight. In comparison to many other bands that tour seemingly thirty months out of the year, we're all able to balance touring with our other duties that require time at home. I'm entering my junior year at Stevens Institute of Technology in Hoboken, New Jersey. All of the professors and deans (and my class of 2012 classmates!) at the school have really made my touring dreams a reality. Whether it has been with the E St. Band or Madball, they understand that these are once-in-a-lifetime opportunities—that are rooted in my passion for drumming—and have the potential to make this a thing I can do for a long time. With that said, there eventually comes a time when one misses their family, girlfriend, dogs, and friends at home—so these intense three-week runs with time at home/school in between are awesome!
Madball will be releasing video updates from the road (directed by yours truly!) on www.facebook.com/madballNYC every Thursday. Check out pre-order information for Empire on www.myspace.com/madball, and check out the tour dates to see when we're hitting your town. See you in the pit! Advertisement