Mike Justian of The Red Chord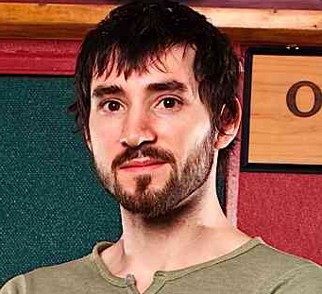 Someone once told me that coffee is bad for your health. Well, that's okay because it's good for my peace of mind. It's said that it makes you look older, but I think that I just look more refined. I'm also of the opinion that having a routine on tour is essential to surviving the maddening rigors of the road, something that coffee backstage is great for. The graffiti that covers every available inch of every dressing room is staring at me as though I should be up there, smeared across the wall like an underwear stain, for I'm currently doing the Summer Slaughter tour with the Red Chord, where a little sleep and a lot of sweat is the name of the game. In fact, I'm writing this on one of our nightly overnight drives, as we ride on cellophane highways, piercing through the thick rain in a futile attempt to outrun the downpour.
I've been out here for a number of weeks with a couple more left, and I'm starting to feel like I'm at a party that I never really got invited to, not to mention that playing technical metal is quite tricky with a fractured left hand. Certainly, I'm not intending to sit here and bore you as I lament the sorrows of being on tour, but I'm just trying to best illustrate the scenario. The drives are long and the days are bland, but the shows make it worth it. The show is ultimately why I risk my health, my sanity, and my life. To me, it's not even a question of "Should I keep doing this"? because the resounding statement will always be, "This is what I do."
However, I must admit, if I didn't have the undying support of some great companies, champion friends, and amazing family, dedicating my life to music would not be feasible. Meinl has been an invaluable asset to my progress as a musician. Vic Firth is the only drumstick that doesn't get in the way of my arms being able to do what my brain wants them to. Taye is an inspiration, simply because their drums are so amazing that I would be insulting their legacy by playing any less than my very best. Aquarian produces the best drumheads overall, enough said. Advertisement
I'm currently playing drums for the Red Chord as well an ambient/experimental project called Saail, and I'm even creating solo material. All in all, as long as there's coffee to drink, a support system in place, and a musical statement to expound through the process of creativity, I'll be right (t)here.

For more on Mike Justian and The Red Chord, www.myspace.com/mikejustian, www.facebook.com/theredchord1, www.myspace.com/saailband, www.meinlcymbals.com, www.vicfirth.com, www.tayedrums.com, or www.aquariandrumheads.com.