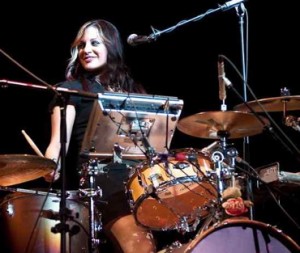 I've been drumming professionally for five years. My story is different from most, as I didn't learn drums as a child. However, I've always had music in my life. My dad is an amazing self-taught piano player, so I was lucky to grow up with a piano in the house and write all my first songs on it. I also started singing when I started to talk. My dad would play piano while I sang along at the top of my lungs. The first song I sang was "Johnny B. Goode," so I guess I had a love of rock 'n' roll right from the start. I began flute lessons in the fourth grade. And yes, as any good band geek will do, I later played that flute in the marching band while wearing a polyester suit. I also sang in every musical school organization that existed and my "inner ham" shined in lots of musical theatre.
Sirsy started as an acoustic duo with my bandmate/co-writer/best friend, Rich Libutti. However, we were writing rock songs and wanted to perform them that way. So we added more players to our band. After multiple lineup changes (you know how it is to keep a band together), Rich and I went back to a duo, but out of necessity we made our duo sound like four people—and that's when I became the drummer!
We decided that during live shows I should play the drums standing up, to keep that "front person" energy. I am still a big theatrical ham on stage, and we didn't want that to get lost by me sitting behind a kit. Also, as any singer will tell you, you can work your diaphragm much easier while standing. I play a Sonor kit live, and as luck and a little experimentation would have it, we were able to manipulate the kit and the hardware so that we could mount the snare in the rack tom slot and the hi-hat above that. We adjusted the height of everything else to be played in a standing position. (I skip rack toms live and my kit is just floor tom, kick, snare, hi-hat, crash, and ride.)
We also had to cover the bass parts. Rich made a sound library with his bass, playing whole notes, quarter notes, etc., all along the neck of the bass. Live, I access that library using a Roland SPD-S pad. So, I'm not triggering bass tracks and playing along with a click. Rather, I'm playing the SPD-S as if it was a keyboard/piano that I'm playing with my drumstick. That allows the songs to breathe, and we're able to stretch solos, have dynamics, and keep that live "in the moment" vibe. Also, using the same sound library, Rich plays whatever bass parts I don't cover, on a Roland FC-200 (with his feet). Sometimes we're splitting actual lines in the middle of phrases. The band plays more than 250 shows per year nationally—that, luckily, equals lots of practice time.
People always ask me how I was able to start playing drums right out of the gate. Truth is, I don't really know. I do know that playing drums is the most fun I've ever had playing an instrument. I've learned a lot by listening to other drummers. My favorites are those who play solid—in-the-pocket drum parts that support the song—without any unnecessary clutter, allowing the melodies to shine.
For those of you interested in gear: I play a Gretsch Catalina kit in the studio with a traditional setup. Live and in the studio, I use Zildjian K Custom cymbals and Evans drumheads. I am also endorsed by Vater Percussion—I love their 5B sticks (wood-tip). My live hardware is a mix of the stock Sonor hardware that came with my kit, Gibraltar hardware, and even a copper plumbing pipe (which I use to mount my SPD-S). Thanks for hanging with me. May you all make music in whatever way it works for you! Happy playing!

For more about Melanie Krahmer and Sirsy go to www.sirsy.com.