Justin Salinas of the Word Alive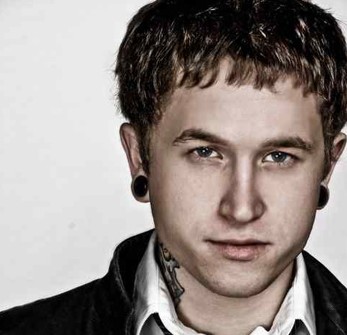 Hey, MD readers, Justin Salinas from the Word Alive here! I'm currently secluded in my bunk in the back of our bus, writing up a blog while on one of the many long drives on the Vans Warped Tour.
We just got done recording our debut Fearless Records release, Deceiver, and I couldn't be happier. The songs sound really good, and I'm excited to share them with all of you and the rest of the world on August 31! I don't think a lot of people realize the time and stress that is spent on making a record—let alone making a record while on tour, in hotel rooms on practice pads, and only getting two small practices on real drums before entering the studio. But that's an entirely different story.
Let's start from the beginning. I started playing drums at the age of thirteen. At first I would just beat on plastic bowls and pans, trying to stumble into the drumbeat on "Smells Like Teen Spirit" by Nirvana. Then I finally convinced my mom to buy me an old (very old) Pearl Export kit from a local pawnshop, and I would beat on that thing for hours! I started my first band, Descent, at fourteen and began playing shows soon after. We would play all over Washington state and Portland, anything from a house party to small theaters. That's where I got hooked on playing live and decided to relocate from my home town of Spokane, Washington, and move to Portland, Oregon, to join the Facedown Records band Inked In Blood in 2004. That changed my life. I did countless tours with IIB and recorded their debut record, Lay Waste The Poets, in the summer of 2005. After many member changes and no stable lineup in the immediate future, I decided to part ways and join the Victory Records band Scars Of Tomorrow. SOT was my first look at tours of a professional nature, rather than just kind of going out on the road with your friends and causing trouble.
The transition from IIB to SOT involves my craziest tour story ever. SOT was in the studio recording The Failure In Drowning in New Jersey when I flew in on a couple days' notice and went straight to the studio to hear the new tracks. Shortly after getting to the studio, I noticed a horrible pain in my stomach and decided I better play it safe and go to the ER and see what was going on. What was going on was appendicitis, and I went in for emergency surgery to get my appendix taken out a few hours later. I was released from the hospital the next day and had a day to rest and eat nothing but Jell-O. The day after that, I was in a rehearsal space learning the SOT set list. I had two practices (six hours total) to learn the set before leaving for a five-month run of tours. That first tour I had staples in my stomach, and I could barely lift my snare drum, but I pulled it off without missing a beat. We continued to tour heavily throughout the U.S., Canada, and Europe with bands like Soulfly, Hatebreed, Soilwork, and Darkest Hour, having some of the best times of my life. Advertisement
After SOT decided as a band to start a new chapter, some of the other members and I decided to start a band called the Hollowed. We recorded a CD and were signed to Rise Records but broke up before the record was even done getting mixed.
Then started a journey of filling in for bands. I first filled in for the hardcore/punk band Furious Styles (Eulogy Records) on a short US run. Shortly after, I joined the Rise Records band Catherine. We did some touring and wrote the record Inside/Out, but due to an unhealthy lineup, Catherine disbanded shortly after. I then went out and filled in for the Solid State records band My Children My Bride. After filling in for MCMB I decided to take some time off and focus on finding a band that had everything I was looking for in a group of musicians. Then randomly one day, my best friend Mike Milford from the Artery Foundation sent me an email he received from Fearless Records about needing a drummer for the Word Alive. The rest of my story is taking place right now, and I couldn't be happier to finally find a band that shares the same vision as me.
2010 is looking to be a busy year for the Word Alive. Make sure you check out our dates on www.myspace.com/thewordalive, and follow me at www.twitter.com/elsalinas for when we're coming to a city near you! Advertisement
P.S.: I play SJC drums, Zildjian cymbals, and Vic Firth drumsticks.

For more on Justin Salinas and the World Alive, go to www.myspace.com/thewordalive.